Ann Romney: Sheheen's Sexist Slip-Up 'Hit Me Right in My Gut'
She wants to know where EMILY's List and the National Organization of Women are on his gaffe.
by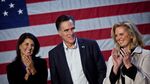 Ann Romney, 2012's first lady runner-up, has weighed in on the "whore"/"her" slip up in South Carolina's gubernatorial race.
"When I first heard about it, it hit me right in my gut," Romney told CNN on Monday. "It's so unacceptable. Nikki [Haley, the state's Republican governor] is a great girl and has been a great governor."
The trouble started last Thursday when incumbent Haley's Democratic opponent, Vincent Sheheen, told a crowd at a campaign rally that they would "escort whore out the door."
The comment was clearly a mistake—if nothing else, there's an article missing in the original sentence—and Sheheen immediately corrected himself, but he also laughed along with the audience. 
Haley has been close to the Romneys since she endorsed Mitt Romney for president in 2011. Last month, Ann Romney mentioned Haley among women she'd like to see run for president some day.
But Ann Romney argues that incidents like this will prevent female candidates from running. "We need to make sure we have a safe place so that other women can feel like they can do this and these kinds of things aren't going to happen to them," she said.
On the right, the comment has been taken as more evidence of the liberal war on women. Mona Charen at the National Review wrote that "I guess when Democrats talk about the war on women in 2014, it's about waging it." (Emphasis Charen's.)
On Monday Sheheen apologized while on the air with radio host Bryan Crabtree. "My mom's around and I can promise you I don't use that word," he said. "But if anybody heard, and certainly my words were garbled … I apologize because I don't want to send that message to anybody."
Newsbusters, a right-leaning media watchdog, wondered why the media was ignoring Sheheen after covering Charlie Baker, the Republican candidate for governor in Massachusetts, calling a female reporter "sweetheart."
Romney is also chalking up the lack of outrage as evidence of bias. "You get so sick of saying there is bias out there, but if a Republican had said this it would be blowing up in their faces like nobody's business," she said. "Where is EMILY's List? Where is N.O.W.? Where are they?"
In any case, Cook Political Report rates the race "likely Republican," one indication of the continued uphill fight Sheheen will wage until next week's election.
Before it's here, it's on the Bloomberg Terminal.
LEARN MORE