Wisconsin Voters Know Scott Walker–and That's His Problem
Tim Jones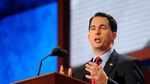 Just about every Wisconsin voter knows who Scott Walker is, which might be the biggest obstacle facing the first-term Republican governor and his White House ambitions.
The 46-year-old preacher's son fought labor unions in 2011 and won. A year later he became the first U.S. governor to survive a recall, vaulting him to star status among conservatives. Yet if Walker is to advance his momentum into the 2016 presidential race, he needs to win re-election next week in a state where roughly half of the voters say they've had enough of him.
Recent opinion polls portray a rigidly, almost chronically split Wisconsin, a state at political war with itself. Walker and his Democratic opponent, former Trek Bicycle Corp. executive Mary Burke, are deadlocked, according to a recent survey from Marquette Law School.
"The biggest issue is the divisiveness that we have seen," Burke said Oct. 22 in an appearance in Menomonie, as protesters standing 30 feet away held up posters calling her job development proposal a fraud. "That's not who we are in Wisconsin.'
For now, it is. Resentment lingers even though the fury has subsided from recall campaigns against state lawmakers in 2011 and Walker in 2012. More than $137 million was spent on those contests.
Steering Conservative
Most of all, the Nov. 4 election is about Scott Walker and the conservative direction he has steered Wisconsin, a state with a long progressive heritage. It's an opportunity for Walker's opponents to strike back after he successfully curbed unions' collective-bargaining rights, cut school funding, tightened voting regulations and reduced access to abortion.
''I hope you can see that our motives were pure," Walker said in an Oct. 10 televised debate with Burke.
Despite the ideological differences dividing Wisconsin, the dominant issue in the campaign is job creation and the state's sluggish economic performance since Walker took office. As a candidate for governor in 2010, he pledged to create 250,000 private-sector jobs by the end of his first term.
He's fallen short. Wisconsin ranks 30th among U.S. states in job growth during Walker's term, with a gain of 4.62 percent, adding 126,600 non-farm payroll jobs from December 2010 through September, according to Bureau of Labor Statistics data. North Dakota had the highest percentage increase during that time at 22.5 percent, while California added the most total jobs at 1.24 million, data show.
On Defensive
The numbers have put Walker on the defensive. The governor promoted September's job growth of 8,400 at an eastside Milwaukee manufacturer Oct. 21. He stated the figure three times within five seconds.
"That's the best September we've had in more than a decade," Walker reminded his audience.
Too little, too late, Burke says.
"Frankly we're just not creating the types of opportunities we need to create to keep our young people in our state and to make sure our economy's thriving," Burke told reporters in Menomonie.
Burke, 55, represents a departure from the traditional labor-backed Democrat in Wisconsin. A graduate of Harvard Business School, she served as secretary of the Wisconsin Department of Commerce under Democratic Governor Jim Doyle. She describes herself as a business executive, drawing on her years at the bicycle manufacturer that her father founded.
Campaign Aid
President Barack Obama is scheduled to campaign for Burke in Democratic-dominated Milwaukee tomorrow. Former President Bill Clinton stumped for her in the city on Oct. 24, saying the "whole country is watching this race because her opponent got a lot of headlines the last four years, all related to conflict."
Walker gained national attention in February 2011 when his proposal for collective-bargaining restrictions on most public employees provoked weeks of protests in Madison, the state capital. That led to his success in fending off an ouster vote in 2012 -- and his rapid rise in the Republican Party.
A group of county prosecutors said Walker was involved in an effort to bypass election laws while fighting the 2012 recall, according to court documents. No one, including Walker, has been charged in that investigation. Still, the controversy has fed the turmoil attached to his term in office.
"This is a test of the theory that you can govern as a divider and not a uniter," Marquette poll director Charles Franklin said about the race, which for months has been a toss-up.
Dead Heat
The Marquette survey of 803 likely voters showed Walker and Burke tied at 47 percent each. It was conducted Oct. 9-12 and had a margin of error of plus or minus 3.5 percentage points. The poll also showed 70 percent of voters wouldn't like to see the governor run for president, preferring instead U.S. Representative Paul Ryan, the Wisconsin congressman who was Mitt Romney's vice presidential running mate in 2012.
Wisconsin's political volatility has proved itself in the voting booth. Five months after rejecting Walker's ouster in 2012, 53 percent to 46 percent, voters gave Obama a similar-sized victory and chose Democratic U.S. Representative Tammy Baldwin over former Republican Governor Tommy Thompson for the U.S. Senate.
The votes for Obama and Baldwin have made Walker's 2012 success over the recall campaign a challenge to interpret.
"I think there were a significant number of people who, in the recall two years ago, weren't necessarily voting for or against me, but voted against the process," Walker told reporters in Milwaukee.
The Marquette poll also measured a years-long wound in Wisconsin: Friends and neighbors no longer talk politics with one another. Thirty-one percent said they've stopped having those conversations because of disagreements over the race for governor.
"I think there's 100,000 people in Wisconsin that don't really like Walker and don't really like Burke and don't really like politics," said Democratic state Representative Evan Goyke, of Milwaukee. "They're going to decide who wins."
Before it's here, it's on the Bloomberg Terminal.
LEARN MORE