The Strategy Behind the Chris Christie-Scott Walker Phony War
Why are Wisconsin Republicans convinced that Christie is tanking their governor?
by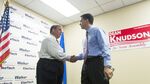 MADISON, Wis.—A week ago, the Washington Post's Robert Costa followed Governor Scott Walker around his state and watched him mash the panic button. "We are always looking for more help," said Walker. "Our main help has to be the [Republican Governors Association]."
Two days later, the RGA upped its commitment to Walker's race, from $900,000 in the homestretch to $2 million. In the meantime, The Weekly Standard's resident cheesehead, Steve Hayes, had channeled some of the frustration of "a number of top Wisconsin Republicans," who worried that RGA chairman Chris Christie was "tanking Walker." They were not quieted by Costa's update. They alleged that the RGA had put in around half as much as claimed, $3 million to the reported total of $6 million.
If that sounds like a lot, it is—but it's not what Walker's counted on in the past. The governor survived his historic 2012 recall election by heavily outraising and outspending Democrat Tom Barrett and a host of labor groups, ending with $30.5 million. He was bolstered by a quirk in state fundraising laws that allowed him to stuff his account with unlimited donations for a period between the recall's approval and the start of the election.
Walker has no such advantage in 2014, and Republicans arguably underestimated the challenge of Mary Burke, a bicycle company mogul who had never run for office but evolved into a strong candidate.
While on Walker's trail yesterday, I asked him if the new money from the RGA was going to be enough. "We've been outspent up until now," he said. "It's because of the large amount of money coming in from these Washington special interests. I'm hopeful, that as they did two years ago, four years ago, my fellow governors come in and help us out, but even if they help us out and step it up in the next nine days, it still won't be anything to match what the Washington interests poured into this race."
That seemed to sync up with his message, that Burke was a pawn of outsiders, and that he–an incumbent with a national donor network–was the underdog. (When I asked if the RGA was a Washington special interest, Walker brushed me back: "They're governors. They're states.")
Politico's Alex Burns caught up with Walker at another stop and where a more pointed question was asked, about Christie himself. After President Barack Obama's visit to Wisconsin was announced (he's in Milwaukee on Tuesday), the RGA let slip that New Jersey's governor would stump for Walker, again. "[Christie] is coming because he asked if he could come and we weren't going to say no," Walker said. "But we're not looking for surrogates."
The headline bestowed upon that story: "Scott Walker to Chris Christie: Thanks for nothing." The idea that Christie and Walker are now at war, and that the governor of New Jersey (you know what those people are like) is selecting just the right knife to put in Walker's back, is just irresistible. Walker could knock it down, but he prefers to keep it going.
Walker's strategy reminds me a lot of Rick Weiland's in South Dakota: After years of help from donors outside Wisconsin, he's packaging his campaign as an all-local affair, a stand against the national labor-industrial complex that he's defeated twice already. That, surprisingly, doesn't have the juice it used to.
Before it's here, it's on the Bloomberg Terminal.
LEARN MORE