Republicans Blast Hillary Clinton's Attempt at Channeling Elizabeth Warren
The former Secretary of State has given her GOP rivals a memorable line of attack.
by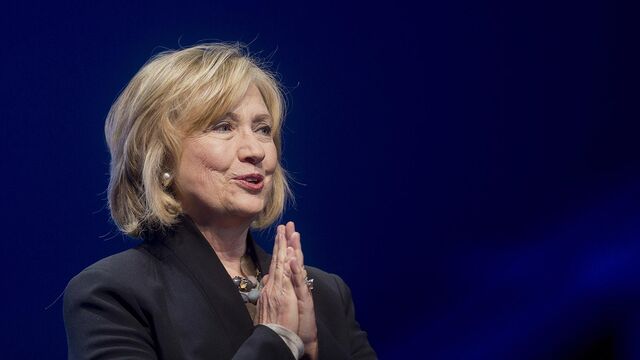 While campaigning in Massachusetts on Friday Hillary Clinton sounded, at times, an awful lot like Elizabeth Warren.
While both women were in the state to stump for votes for Democratic gubernatorial candidate Martha Coakley, Clinton took a few moments to praise Warren as a "passionate champion for working people and middle-class families," and gushed "I love Elizabeth."  
But when Clinton, who has sometimes been criticized by the left wing of the Democratic party for her Wall Street ties,  went on to test out a few Warren-esuqe attacks on trickle-down economics, something didn't quite click. 
"Don't let anybody tell you that, you know, it's corporations and businesses that create jobs," Clinton said before continuing her critique of Republican economic policies.   
An aide to Clinton later told Politico she was talking about tax breaks for corporations, but the comment has come in for a good old-fashioned Twitterverse pummeling, and the remark is almost guaranteed to resurface in a 2016 presidential campaign.
Among the swift and merciless Republican reactions, Ari Fleischer, the former White House press secretary George W. Bush, tweeted:
San Spicer, the communications director for the Republican National Committee, also chimed in: 
Speaking to the New York Times, Tim Miller, head of the conservative America Rising PAC, called Mrs. Clinton's remark "a ham-handed attempt to pander to liberal voters."  The group put the video on its website with the tagline "Who exactly is creating the jobs then, Sec. Clinton?"
Conservative news outlets have posted footage of the comments—dubbed "Hillarynomics" by a headline on the blog Hot Air—the links of which have been tweeted and re-tweeted by the public ad nauseam, at times with insults attached.
Others are joyfully comparing Clinton's gaffe to the "you didn't build that" remarks President Obama made in 2012 while he was talking about the role government plays in the success of businesses.
"If you were successful, somebody along the line gave you some help," the president said two years ago, in the middle of his re-election campaign. "There was a great teacher somewhere in your life. Somebody helped to create this unbelievable American system that we have that allowed you to thrive. Somebody invested in roads and bridges. If you've got a business, you didn't build that. Somebody else made that happen."
As you may recall, the GOP immediately used those words in TV ads to characterize the president as anti-business and out of touch. "We Built It" became a theme for the 2012 Republican National Convention. 
Somewhere, Republicans are likely brainstorming a similar refrain for 2016. 
Before it's here, it's on the Bloomberg Terminal.
LEARN MORE