It Would Take Until 2016 for You to Watch Every Midterm Ad Back-to-Back
Oh, and that's without sleeping.
by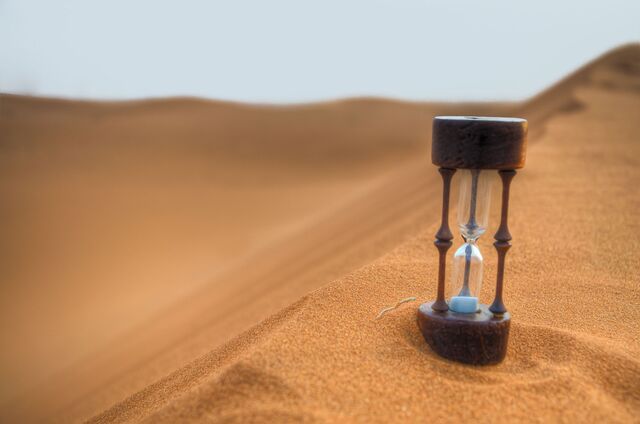 It would take you more than a year, uninterrupted, to watch all of the congressional ads that have run in the 2014 election.
U.S. House and Senate campaign ads have run 1,249,761 times on local broadcast television through October 20, according to Kantar Media's CMAG, an ad tracker. At 30 seconds per spot, that comes out to 37,492,830 seconds, or 434 days.
If you began that daunting task today, you'd finish during the first week of 2016, when the Iowa precinct caucuses are scheduled to kick off the presidential nomination contests. (Some spots run 60 seconds, and every once in a while you'll see a 15-second spot or a two-minute spot.)
The North Carolina Senate race leads all 2014 elections, with 90,546 TV ads. Democratic incumbent Kay Hagan and Republican state House Speaker Thom Tillis are locked in one of the many tight races that will determine whether Democrats keep their majority.
Yet Iowa, a state that is less than one-third as populous as North Carolina, isn't too much of a distant second, with 78,249 spots. Ranking third is Kentucky, where there have been 74,087 spots in the state where Senate Minority Leader Mitch McConnell is opposed by Democratic Secretary of State Alison Lundergan Grimes.
The fourth-ranking state, Louisiana (63,812), will augment its ad total in the month following the November 4 election because Democratic Senator Mary Landrieu and Republican Representative Bill Cassidy are almost certainly headed for a runoff election on December 6.
In Georgia, where 58,120 ads have run in its Senate race, Democrat Michelle Nunn and Republican David Perdue may square off in a January 6 runoff if no candidate wins a majority of all votes cast in next week's election.
Here's a look at the 20 House and Senate races where the most broadcast TV campaign ads have aired between January 1, 2013 and October 20, 2014: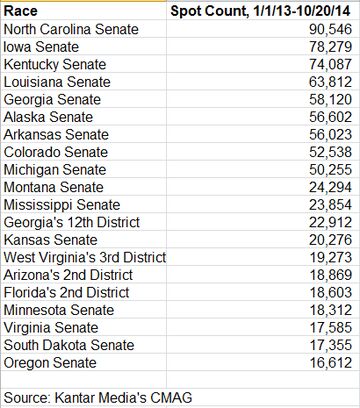 Georgia's 12th District (Augusta) leads all House races with 22,912 spots. In that district, Democratic Representative John Barrow is seeking a sixth term against Republican Rick Allen. It's among just nine districts nationwide that voted Republican for president and Democratic for the House in the 2012 election. That's why Republicans are targeting the district in their quest to expand their current 234-member majority to 245.
And the 2014 midterms could be seen as the never-ending campaign: The first broadcast ad of the election appeared 592 days ago, in March 2013, just four months after President Obama was re-elected. It was an ad by McConnell's campaign, featuring his wife, former U.S. Labor Secretary Elaine Chao:
The ad totals take in spots aired by the candidates, political parties and outside groups including nonprofit issue-advocacy organizations and super-PACs that are permitted to accept donations in unlimited amounts. 
Before it's here, it's on the Bloomberg Terminal.
LEARN MORE