Clinton: 'Trickle-Down Economics Has Failed'
Her remarks boil down to one message: She's for the little guy.
by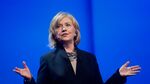 Days after Republicans feasted on her claim that corporations don't create jobs, Hillary Clinton tried Monday to "be absolutely clear about what I've been saying for a couple of decades."
"So-called trickle-down economics has failed," Clinton said as she stumped for Representative Sean Patrick Maloney in New York. "Our economy grows when businesses and entrepreneurs create good-paying jobs here in an America where workers and families are empowered to build from the bottom up and the middle out–not when we hand out tax breaks for corporations that outsource jobs or stash their profits overseas."

While campaigning Friday for Massachusetts gubernatorial candidate Martha Coakley, Clinton created a stir–and drew criticism from Republicans–by saying, "Don't let anybody tell you that it's corporations and businesses that create jobs."
She followed that with a line about President Ronald Reagan's pet economic concept: "You know that old theory, trickle-down economics. That has been tried, that has failed. It has failed rather spectacularly."

The cleaned-up message, though, hits at the same theme: Clinton's for the little guy.

She has been sounding more populist notes of late as a campaign-trail advocate for Democratic candidates who are on the ballot next week. That's an important turn as she contemplates a run for president in 2016 because Clinton's biggest weakness among Democrats, and some Republicans, is the perception that she's too close to Wall Street and corporate America. One  Clinton confidant told Bloomberg Politics he'd rather have her make mistakes like Friday's than say she's for Wall Street banks.

And the more anti-corporate tone is pleasing to the ears of liberals who have pined for  Senator Elizabeth Warren, a scourge of Wall Street banks, to challenge Clinton for the Democratic nomination. And, they say, it's a message Clinton can use against Republicans because many in the GOP have turned wary of Wall Street and big corporations since the 2008 financial crash.

"Warren's economic populist agenda offers a pathway to success for Democrats in 2014 and 2016 –if they choose to take it," said Adam Green, co-founder of the Progressive Change Campaign Committee. "Hillary Clinton may be realizing that Elizabeth Warren's economic populist positions are the path to electoral success in 2016–both in the primary and general election."

In the 2008 campaign, Clinton rolled out a $7 billion plan to create incentives, including tax breaks for corporations, to create jobs in the U.S. As a senator from New York, she supported targeted tax cuts or credits for a variety of industries and businesses.  
Before it's here, it's on the Bloomberg Terminal.
LEARN MORE