Biden: This Election More Important Than 2008 or 2012
Vice president says this is the Democrats' best chance to stop the rise of the Tea Party.
by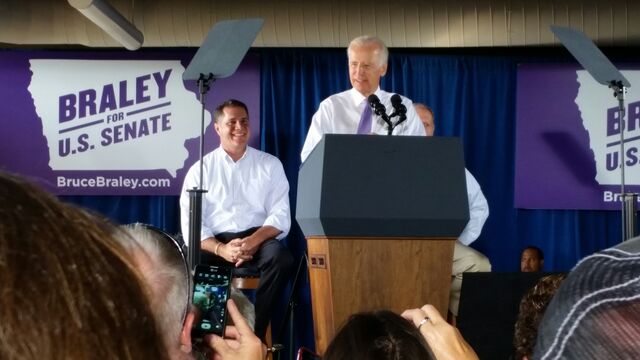 Campaigning in Iowa, Vice President Joe Biden on Monday called the midterm election's fight for control of the U.S. Senate more important than those that brought President Barack Obama to the White House. 
Biden also predicted Democrats would win and "break the back of the hard right" and "reasonable people in the Republican Party" in Congress would "start to vote reasonably" again.
"Folks, this election is even more important than the two elections you elected Barack and me," he said. "If we don't stop the march of the Tea Party now, the majority of Republicans in the House and Senate who know better are never going to have the courage to stand up and vote the right way."
Speaking to about 150 people at a baseball stadium along the Mississippi River in Davenport, Iowa, Biden was joined by Representative Bruce Braley, Iowa's Democratic nominee for Senate.
"This election in Iowa is more important than Iowa," Biden said. "This election in Iowa is about sending a message to the entire country and to our Republican colleagues who know better."
The race is attracting millions of dollars from outside groups and some of the biggest names in national politics. Bill and Hillary Clinton will campaign separately for Braley later this week, while Republican Joni Ernst will be joined by Senator Marco Rubio of Florida, among others. Braley has also received two campaign visits from first lady Michelle Obama.
Should Republicans gain the six seats needed for Senate control, Biden said it would push back bipartisanship for years.  "It will break, eventually, but this is really important," he added.
Braley repeatedly sought to tie Ernst to Republican billionaires and benefactors Charles and David Koch and the Tea Party. He noted Ernst's decision last week to skip a meeting with the editorial board of the Des Moines Register, the state's largest newspaper. "What is Joni Ernst trying to hide?" he asked. "She's trying to hide that she's not on your side."
Ernst led Braley 49 percent to 46 percent in an NBC News/Marist poll released over the weekend. Her 49-41 percent lead among independent voters, Iowa's largest voting bloc, could prove key if she is able to maintain that advantage. The campaigns are targeting an increasingly dwindling audience. Through Sunday, more than 300,000 Iowans had already cast ballots.
The area around Davenport–Scott County–will be important in the appeal to independent voters. Among Iowa counties with at least 50,000 registered voters, Scott ranks first for proportion of independent voters. Nearly 41 percent of voters there are registered as independents.
Republicans sought to draw attention to the first lady's struggles to get Braley's name right during her first appearance for him earlier this month. "If Joe Biden remembers Congressman Braley's name, this will be the best surrogate he's had," Republican Party of Iowa spokesman Jahan Wilcox said in a statement. 
In one of his most direct references to Ernst, Biden said he would "love to be able to take her to nursing homes in the Quad Cities area" to show her the importance of Medicaid to middle class people who have simply fallen on hard luck. He also mocked her for expressing an openness to privatize Social Security.
"Imagine had your Social Security benefits been in the market four years ago," Biden said. "Imagine what a social calamity there would be in the United States of America."
Before it's here, it's on the Bloomberg Terminal.
LEARN MORE