Bad Politics Is Making for Fierce Editorials, at Least
Tepid newspaper endorsements are reflecting voter grumpiness with incumbents and candidates.
by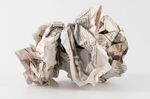 "The campaign between Bruce Braley and Joni Ernst for the U.S. Senate has been an exhibition of American politics at its worst," wrote the Des Moines Register. "It has been a $28 million parade of dismal attack ads that have reduced the candidates to evil caricatures," the editors observed, before offering a tepid endorsement of one of those caricatures--Braley.
"While Udall is justified in battering Gardner over his position on personhood and his plan to sell birth control pills over the counter (Congress does not decide such things), there is more to talk about than reproductive rights," wrote the Durango Herald, before throwing its support behind Colorado Senator Mark Udall's re-election despite all his stray talk about contraception.
The backhanded compliments being doled out by major papers in the weeks before the elections offer another glimpse into a disgruntled electorate, unhappy with the status quo in Washington but dissatisfied with the alternatives on the campaign trail.
 The Charlotte Observer offers another example of the form. Democratic Senator Kay Hagan, they wrote, "has done about the minimum you'd expect from a U.S. senator, with few if any notable legislative achievements."
 "She needs to accept that while North Carolina is a difficult, divided state to represent, it deserves a senator who is not perpetually fearful of upsetting half the state's voting population," they added.

And with that wind-up: "We recommend voters give her another chance to show she is up to it."

Newspaper endorsements don't carry the sway they once had, but they could matter in what are sizing up to be some of the closest races in recent midterms. That seems to be the worry for MoveOn and NARAL Pro-Choice Colorado as they plan to deliver petitions on Tuesday to the Denver Post demanding it retract it's endorsement of Udall's opponent, Republican Cory Gardner.
Typically, politicians would tout their local support in television and radio ads to prove to voters that they really do care about the people back home. This year, though, some "endorsements" could end up in an opponent's attack ad. 
Before it's here, it's on the Bloomberg Terminal.
LEARN MORE