In Arkansas, Booze Sellers and Churches Unite
Esmé E. Deprez and Millie Hogue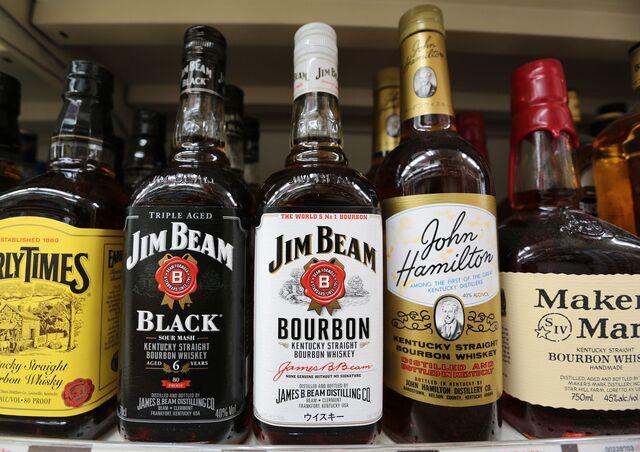 Arkansas liquor stores have allied with religious leaders to fight statewide legalization of alcohol sales. The stores in wet counties don't want to lose customers. The churches don't want to lose souls.
A ballot issue next week asks voters whether to amend their constitution to permit sales of intoxicating liquors in all 75 counties, up from about half. Passage would further erode the shrinking swath of America, mostly in the South, clinging to vestiges of Prohibition even as cultural attitudes and waning religious influence have killed it off elsewhere.
If successful, Arkansas would join states and municipalities trading in looser vice laws for tax revenue and economic activity. Colorado and Washington this year began taxing legal sales of marijuana, while New Jersey is fighting in federal court to allow betting on professional sports at racetracks and struggling Atlantic City casinos.
"If people can get alcohol right there in their home town, they're not going to drive here anymore," said Elizabeth Taylor, a manager at Pig Trail Liquor in Ozark, in a wet county surrounded by dry ones in northwest Arkansas. "It's just common sense."
Let Arkansas Decide, spearheading the initiative, says passage would keep local dollars in their communities, attract business and cut down on gasoline use, pollution and impaired driving. Contributions have come from out-of-state convenience-and grocery-store chains as far away as Iowa. A post on the group's Facebook page features a band transmitting the message with the "Dry County Blues."
'Old Bootlegger'
"How I wish I had somewhere to go/To wet my lips on a fifth of Old Crow/Instead I'm sittin' here in this dried-up town/They even shut the old bootlegger down," John T. Parks sings to the strumming of a banjo and guitar. "If I had a bottle I'd be feeling just fine/The dry county blues they get you down every time/And there ain't no cure except to drink 'em away/I sure hope I get paid today."
Dry America has been dying for decades. Action has been at the local level, with some towns in Mississippi and Kentucky relaxing temperance laws as recently as last month. Since 2004, Texans have voted in 712 local elections to legalize or expand alcohol sales, approving 79 percent, said John Hatch of Texas Petition Strategies, a consultant for municipalities trying to go wet.
Government: Out
The measure in Arkansas is unique in that it could determine the status of the entire state. Passage would force its 37 dry counties, which forbid the retail sale and manufacture of alcoholic beverages, though often with exceptions for private clubs, to allow it. The law would take effect in July.
Steve Schmidt, senior vice president at the National Alcohol Beverage Control Association, said he couldn't recall another such statewide vote in his 20-year career.
On a recent afternoon at the Speak Easy in Ozark, Roy Williams, 49, straddled a barstool and said he planned to vote for the measure. He said the government shouldn't decide where he can buy booze.
"Their job is to protect us," Williams, a truck driver, said as he tightened his grip on a sweating can of Coors Lite. "I don't want the government messing with me."
Citizens for Local Rights, the opposition group funded by alcohol retailers seeking to preserve their competitive advantage, argues the measure would lead to "beer joints and honky tonks right next to our grade schools and churches," according to its website.
Porn, Casinos
Larry Page, a Southern Baptist pastor and director of the Arkansas Faith and Ethics Council, which traces its roots to the Anti-Saloon League of Arkansas in 1899, said the initiative is about more than just the dangers of alcohol.
"We're not saying, 'Hey, instead of voting the whole state wet, let's vote the whole state dry,'" he said. "We're just saying, 'Let people locally continue to make the decision.'"
It's not the first time political issues have made for strange bedfellows, Page said, recalling when his group joined with feminists to oppose pornography and cooperated with Mississippi casinos to fight gambling in Arkansas.
The end of Prohibition in the U.S., which banned the manufacture, sale or transportation of alcohol from 1920 through 1933, let states decide the legality of alcohol sales within their borders. While many retained their bans for decades, teetotalers have been on the losing end ever since, said David J. Hanson, professor emeritus of sociology at the State University of New York at Potsdam.
"I would bet there will come a time when virtually all counties will be wet," said Hanson, who studied drinking patterns and problems for more than 40 years.
Parched Landscape
Most jurisdictions with booze bans still on the books are clustered in Arkansas and neighboring states, including Mississippi, Kentucky and Tennessee. Nationwide data on the precise number can be misleading: some counties that are dry are home to cities and towns that aren't, for instance, while definitions of dry can vary by state to include liquor but not beer.
One argument for loosening restrictions is that studies show higher rates of binge drinking and related traffic deaths in places with stricter alcohol laws. Still, emphasizing economics is the way to woo voters, said Hatch of Texas Petition Strategies. Nationwide, the alcohol industry employs 3.9 million workers and generated $21 billion in state and local revenue in 2010, according to the Distilled Spirits Council of the U.S.
Drinking Buddy
A Suffolk University/USA Today poll last month found that 45 percent of likely Arkansas voters said they backed the measure, 40 percent said they were opposed and 14 percent were undecided. The survey of 500 likely voters, conducted by telephone Sept. 20-23, had a margin of error of plus or minus 4.4 percentage points.
Back at Pig Trail Liquor, where a sign in the parking lot promises "Our beer is cold as your ex's heart!," Taylor estimated that statewide legalization would siphon off 10 percent of sales.
"Well, goodbye now," she called out to a departing customer who'd just driven an hour to buy rum and Coke. "If this thing passes, I guess we won't see you again."
Before it's here, it's on the Bloomberg Terminal.
LEARN MORE