Why Trayvon Martin is a Campaign Issue in North Carolina
A radio ad by Senate Majority PAC blasts Republican Thom Tillis for supporting "stand your ground" laws.
by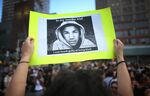 Though Trayvon Martin was shot and killed in Sanford, Fla., more than two years ago, his legacy is being used today as a campaign issue in North Carolina's Senate race between Democratic incumbent Kay Hagan and GOP challenger Thom Tillis. 
A recent radio ad paid for by Senate Majority PAC, a group backed by Senate Majority Leader Harry Reid, slams Tillis on range of issues important to the African American community, including his support of measures that would restrict voting, and well as his stance against raising the minimum wage.
"Tillis even led the effort to pass the type of stand your ground laws that caused the shooting death of Trayvon Martin," the narrator then states in the ad. 
A recording of the spot was posted by the conservative blogger Sister Toldjah:
The reason for invoking Martin's name is fairly straight-forward. Democrats need to mobilize the African American vote if Hagan is to hold on to her seat, and an NBC/Marist poll released over the weekend show the contest tied. Since January, the party has worked to register upwards of 30,000 African Americans, and the radio spot is intended to make sure that each one of them votes. 
Though Martin's killer, George Zimmerman, did not invoke Florida's "stand your ground" law during his trial, the statute was seen by some as setting the backdrop for the shooting and the police response to it. Moreover, Tillis' backing by the American Legislative Exchange Council, the conservative group that helped penn the stand your ground legislation has come under scrutiny in North Carolina. Tillis was named ALEC's "legislator of the year" in 2011, and as the speaker of the state house, he has been seen as a champion of the group. 
Before it's here, it's on the Bloomberg Terminal.
LEARN MORE