Tea Party Message: Vote or Risk Death
New videos from Senator Mike Lee and others use fear to motivate voters.
by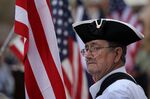 A new video and social media campaign from Tea Party leaders is encouraging limited government conservatives to vote as if the end is near.  
"I want to encourage you to encourage you to vote this year as if your life depends on it," Utah Republican Senator Mike Lee says in one video. "Because that just might prove to be the case." 
The grainy, no-budget videos, from Lee, Senator Ted Cruz, Representative Louie Gohmert and others, are part of a campaign led by Americans for Limited Government and Tea Party Patriots, according to The Washington Examiner. "Conservatives have to get out and vote," Gohmert told The Examiner. "It should have been clear to them that it would be dangerous for America if they stayed home." 
Not all of the videos make the connection between voting and staying alive so explicitly. In one video, Cruz urges people to vote out Harry Reid if they want to, among other things, abolish the IRS and repeal Common Core. In several others, Gohmert accuses the president of "opening avenues for Ebola to come into this country," but also repeatedly laments "Obama's lawlessness," especially related to the IRS scandal and the Fast and Furious controversy.
(Gohmert stresses that the key is "coming out and voting, legally, and only one time, and not if you're dead," in case he wasn't clear.)
But the most dramatic clip features Lee, sitting in a living room and staring directly into the camera, listing threats like Ebola, the Islamic State, "insecure borders," Iranian nuclear weapons, Russia and China—all "growing evidence that the world is a dangerous place," he says. "If you want better policies in respect to these threats, you can do something about it."
Americans for Limited Government describes itself as non-partisan organization, but it seems to have received the Republican memo on how to encourage voters this November. In attack ads GOP candidates have repeatedly tied their opponents to the president and sense that the world is spiraling out of control.
"Republicans have made questions of how safe we are — from disease, terrorism or something unspoken and perhaps more ominous — central in their attacks against Democrats," wrote The New York Times. Perhaps the candidate most notorious for this is Scott Brown, the Republican challenging Senator Jeanne Shaheen in New Hampshire, who has implied that ISIS and Ebola might both make their ways across the border. 
The thing is, it is a solid, if not wholly irresponsible, strategy. A recent Fox News poll found that 71 percent of Republicans think that things in the world are "going to hell in a hand basket" (that's the actual wording of the poll), compared to 61 percent of independents and 48 percent of Democrats. Convincing people to be scared isn't the hard part—it's getting them to the polls.
Before it's here, it's on the Bloomberg Terminal.
LEARN MORE