Karl Rove Super-PAC Spending Big on Iowa Senate Race
More than 57,000 political ads for Iowa's Senate race have been run this year.
by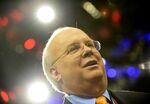 American Crossroads, the Super-PAC founded by former George W. Bush advisor Karl Rove, is the leading the charge to elect Iowa conservative Republican Joni Ernst to the U.S. Senate. 
In fact, American Crossroads has aired more ads than the National Republican Senatorial Committee in the state on behalf of Ernst's campaign, spending a total of $2,323,117 on the spots, the Des Moines Register reported. All told, American Crossroads has aired 4,448 ads in the race between Ernst and Democrat Bruce Braley, including the one below, while the NRSC has paid for 3,351. 
The Super-PAC that has given the most to Braley for television ads is hedge fund billionaire Tom Steyer's NextGen Climate Action, which has ponied up $2.1 million for 3,838 spots. 
One thing is certain in Iowa, the airwaves are saturated with political ads. Braley and his allies have spent $14.7 million on 27,623 ads this election cycle, whereas the pro-Ernst camp has shelled out $13 million on 29,442 ads. 
Before it's here, it's on the Bloomberg Terminal.
LEARN MORE