DuPont Drops $4.46 Million to Defeat Oregon's GMO-Labeling Initiative
Already the most expensive ballot measure in the state's history, the DuPont donation set a new record for the most raised by any one side in a voter initiative campaign.
by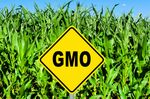 It's crunch time in Oregon's battle over genetically modified foods. DuPont Pioneer, one of the country's leading GMO seed manufacturers, has donated $4.46 million to try and defeat Measure 92, a ballot initiative that would require labels on any food product that contains genetically modified ingredients. 
The new cash infusion means that $16.3 million has now been raised by opponents of Measure 92, a new record in the state for the amount a given side has been able to bank in an initiative fight, the Oregonian reported. 
The measure is also the most expensive ballot measure in state history—with $22.9 million being raised by both sides—but the bulk of that sum has come from corporations fighting to defeat the initiative. Monsanto, the Missouri-based seed developer, has also donated a reported $4 million to try and defeat Measure 92. 
An Oregon Public Broadcasting/Fox 12 poll in early October found that 49 percent of voters supported Measure 92, while 44 percent opposed it. Seven percent were undecided.
Before it's here, it's on the Bloomberg Terminal.
LEARN MORE