Cuomo and Christie's Ebola Tag-Team
A Democrat, a Republican, and the politics of fear.
by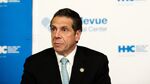 Andrew Cuomo took the low road. 
On Thursday night, the night Ebola officially, dauntingly, came to Gothamtown, the governor sat to Mayor Bill de Blasio's left at a news conference and tried to calm New Yorkers' nerves. The two Democrats appeared at Bellevue Hospital, the country's oldest continually operating hospital, an international leader in treating infectious diseases and one of eight facilities the state had designated for Ebola treatment. The presence of the governor and mayor, mere floors beneath the room where the infected patient, Dr. Craig Spencer, remained in quarantine, highlighted that the virus does not travel by air. Like President Obama's hug with Nina Pham—the 26-year-old Dallas nurse who contracted Ebola from Thomas Eric Duncan, and blessedly had overcome the virus after a period of isolation—their news conference was a gesture meant to reassure the city's anxious citizenry: Ebola is transmitted only through the sharing of bodily fluids. Rest assured, 8.4 million residents of New York City, 19.6 million citizens of New York State. Do not be alarmed.
De Blasio told New Yorkers that the chances of becoming infected by Ebola were vanishingly small. "We have the finest public health system not only anywhere in the country but anywhere in the world," he said. Cuomo added, "We are as ready as one could be for this circumstance." On the Today show on Friday morning, Cuomo said that "we have been preparing literally for weeks on a coordinated effort plan between New York City, New York state, federal government." All the procedures undertaken upon Dr. Spencer's diagnosis and arrival at the hospital were, in Cuomo's words, "exactly according to the book. The first responders did a magnificent job, the health care workers did a magnificent job. So everything has happened the way it should happen since then." On CNN's morning show "New Day," which is hosted by his brother, Chris, he reiterated, "There's no reason for New Yorkers to panic or feel that they have anything to worry about on the subway system." He said that he would even ride the subway himself later that day. 
On this, he kept his word—Cuomo took the subway to Lower Manhattan, where he held another news conference: this time sitting on the right of Chris Christie, New Jersey's Republican governor. There, Cuomo and Christie announced a tough new policy mandating that medical personnel entering the country through Newark or Kennedy airports after treating Ebola patients in the stricken region of West Africa, including Guinea, Liberia, and Sierra Leone, would be subject to a 21-day quarantine. "It's too serious a situation to leave it to the honor system of compliance," Cuomo said. Sprinkling some fear where, just hours before, he had tried to soothe, he continued, "In a region like this, you go out one, two or three times, you ride the subway, you ride a bus, you could affect hundreds and hundreds of people."
He didn't stop there. About Dr. Spencer, who had volunteered to travel to West Africa to work with Doctors Without Borders, Cuomo said, "He's a doctor, and even he didn't follow the guidelines for the quarantine, let's be honest." This is not, precisely, accurate. As The New York Times reported, Doctors Without Border maintained that Dr. Spencer had indeed followed its strict protocol, and that he was not under quarantine. New York City's health commissioner, Dr. Mary T. Bassett—who had not been told anything about Cuomo and Christie's new policy in advance, and was "furious," according to a senior city official interviewed by the Times—said that Dr. Spencer had "handled himself really well" and should in no way be portrayed as "reckless."
In Bloomberg Businessweek's cover story, Joshua Green examines Obama's strict adherence to law professor-like intellectual rigor, no matter how much angst or anxiety the American chorus feels. "There's no doubt that there's a theatrical nature to the presidency that he resists," David Axelrod, a former senior adviser to Obama, told Green. "Sometimes he can be negligent in the symbolism." Green goes on:
"Lately, this failing has been especially pronounced. Few things strike terror in people quite like the specter of Ebola. An Oct. 14 Washington Post-ABC News poll found that nearly two-thirds of Americans (65 percent) say they fear a widespread outbreak in the U.S. Cooler heads have noted that more Americans have been married to a Kardashian than have died from Ebola. But that fun fact misses the point: People fear what they can't control, and when the government can't control it either, the fear ratchets up to panic."
Panic is unwarranted. As New York Times medical reporter Donald McNeil Jr. told me on Friday, "The truth is that it's probably been like this since the cholera epidemic of 1892. There's this ridiculous atmosphere of panic that grips everyone, including the newsroom. People are going, are we all going to die? Yeah, but not from Ebola." There is a 1 in 13.3 million chance of contracting Ebola in America this year.
But that doesn't mean that the city isn't skittish, or even worse—it's a place where buzz reigns, and the specter of contagion (or a "Contagion"-like scenario) is on everyone's minds. Christie and Cuomo know this, and the two potential presidential candidates, linked in so many ways by the Port Authority of New York and New Jersey, tapped into the feeling at their news conference, which came only 11 days before the midterm elections. Never mind that neither of them has pressing electoral concerns—Christie is not on the ballot (though many of the Republican governors for whom he has been raising millions of dollars are), and Cuomo is on a glide path to reelection, over the howls of Republican opponent Rob Astorino. Cuomo's decision not to inform de Blasio of the quarantine policy first—"It wasn't city-specific. It was every city in New York, every city in New Jersey," he explained in his defense—amounted to a swipe at the mayor, with whom he has a complicated relationship. So, too, did Christie's news-conference statement that "we are no longer relying on C.D.C. standards," a strike at the nation's public health leaders and at an unpopular Obama. 
On Saturday, Cuomo sought to blunt this impression, calling the implication that he was using fears of Ebola to his political advantage "obnoxious," "irrational," and "irresponsible." Referring to his comments on the infected doctor from Friday, Cuomo said, "My point was voluntary quarantines in general—I don't think the policy should be left to voluntary quarantine."
The American Civil Liberties Union, for its part, looked askance at Cuomo's and Christie's aggressive quarantine policy. While emphasizing the need to protect the public from Ebola, the ACLU noted that the automatic quarantine does "raise serious constitutional concerns about the state abusing its police powers by detaining people who are exhibiting no Ebola symptoms." Just on Saturday, Kaci Hickox, a nurse returning to the U.S. who was impacted by the policy, wrote: "I sat alone in the isolation tent and thought of many colleagues who will return home to America and face the same ordeal. Will they be made to feel like criminals and prisoners?"
That's not the only reason Christie and Cuomo's policy could become a discouragement to budgets or spirits. Doctors Without Borders, which provides its workers careful instructions for self-monitoring and asks them not to return to their jobs for 21 days, said in a statement to the Associated Press that "self-quarantine is neither warranted nor recommended when a person is not displaying Ebola-like symptoms." Jim Yong Kim, the president of the World Bank, who is a a medical doctor and the co-founder of Partners in Health, on Friday praised Dr. Spencer as "a hero. He is doing exactly what's needed to bring the epidemic to an end"—which is to say, traveling to West Africa to administer professional medical care. Kim continued, "We need literally thousands and thousands of trained health workers who will need more training around Ebola to step up and volunteer." Many medical experts call it counterproductive and stigmatizing to require isolation for health workers who have traveled to West Africa, when many doctors in New York City treat men and women with infectious diseases daily, and may be next to us on the High Line or at our local bowling alley.
Dr. Spencer, by public accounts, is a devoted and courageous doctor and wilderness medical expert who has wanted to practice medicine since high school in Grosse Pointe, Mich. He is doing yoga in his isolation room, hopefully with a view out to the East River. Lately lambasted by his governor, he may find peace in the knowledge that, in America, in 2014, little is more popular than stoking fears as well as distrust of the government.
Before it's here, it's on the Bloomberg Terminal.
LEARN MORE