Who Was That Masked Man?
Hero, villain, hipster, bowler: the many media selves of New York's 'Ebowla' doctor.
by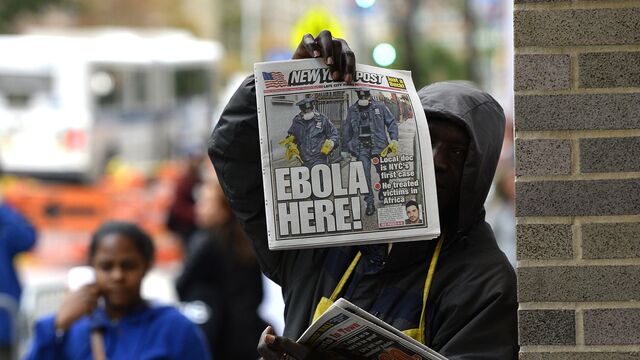 Craig Spencer, the doctor who tested positive for Ebola in New York City on Thursday, is either a hero, "irresponsible," or a Williamsburg hipster (via Harlem) who still bowls, depending on who you ask.
In the midst of the New York (and Washington D.C.) media world's many, many eBOWLa jokes is a conversation about how Spencer, who was exposed to the disease while treating people in West Africa, should be treated.
Spencer was in Guinea, where more 1,500 cases of Ebola have been reported, treating people with the disease with Doctors Without Borders, and returned on Oct. 17. 
According to The Wall Street Journal, Spencer usually works as an emergency room doctor at New York-Presbyterian/Columbia University Medical Center.
He has a fiancée and he's been described as "an outstanding student, humanitarian, excellent physician," "a really genuine, sincere, caring person," and a "responsible physician who always puts his patients first," by his professors, friends and co-workers.
The same people tweeting reminders that you're fine unless an Ebola patient vomited blood into your mouth, are also reminding everyone to stop attacking one of the few Americans actively working to end the Ebola outbreak in West Africa. Jeremy Schulman at Mother Jones tweeted:  
 Sarah Kliff, Vox's health care reporter, tweeted:
Spencer tried to self isolate, and took his temperature twice a day — despite initial reports that he had a 103 degree fever, it was actually 100.3 Thursday morning—a convenient error if you are in the alarm industry. Doctor Mary Bassett, the New York City Health Commissioner, said that Spencer did "exactly the right thing." 
But he also, while he self isolated, took the A, 1 and L trains in Brooklyn and Manhattan, went running, visited the High Line (an outdoor park), had dinner at a restaurant and went bowling at a bar/bowling alley called The Gutter. As Jessica Roy at New York magazine tweeted: 
A step above jokes is gentle criticism — the "I know I shouldn't worry, but" of responses. For example, some wondered how someone "self isolates" in a bowling alley. That's fair to ask, though it's worth noting that Spencer—a doctor—said he was asymptomatic.
And yet, on Thursday night, Fox News anchor Megyn Kelly spoke with Doctor Marc Siegel about Spencer, and said his behavior sounded "irresponsible."
Kelly misreported his temperature as 103, and added that "with all due respect to the doctor … what this underscores is that the system is wrong because it relied on individuals and their sense of honesty. 
Doctor Siegel said there should be a "forcible quarantine."
The problem with that argument is that such an abundance of caution would be more likely to curb people's interest in going to West Africa than it would to prevent outbreaks in the U.S. "If the cost of treating infectious diseases was to give up everything else you love in life," writes Kliff at Vox, "no doctors would treat infectious diseases, and we would all be at much greater risk."
Kliff adds that the reason Doctors Without Borders doesn't ask people to self-quarantine is because it's, as has been repeated constantly for several weeks, fairly difficult to catch the illness. The people living with Thomas Duncan, the first person to die of Ebola in the United States, have been cleared. It's probably more irresponsible to stir up hysteria. 
(It's worth noting that New York's typically hysteria-inducing tabloids went with pretty boring and respectful headlines: "EBOLA HERE!" from The New York Post and "NY DOC HAS EBOLA" from the Daily News. When you're more alarmist than the tabloids…)
There is, however, one fair criticism of Craig Spencer that goes beyond Ebola hysteria. As The Atlantic's Jeffrey Goldberg wrote: 
Before it's here, it's on the Bloomberg Terminal.
LEARN MORE