Poll Palooza: Nunn Has Edge In Georgia Runoff
The Democrat is up 51 percent to 47 percent, according to a new survey.
by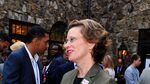 There are 11 days until the midterm elections, meaning candidates only have a few more opportunities to get good news from the polls.
In Colorado, Republican Representative Cory Gardner has maintained his edge over Democratic Senator Mark Udall in the latest Quinnipac poll. Meanwhile, in Georgia, Democrat Michelle Nunn is four points ahead of Republican David Perdue in a runoff scenario, according to a CNN/ORC survey.
Colorado
Quinnipac shows Gardner at 46 percent to Udall's 41 percent. That's basically unchanged from the university's poll last week, when Gardner was 47 percent.
"The needle is barely moving for U.S. Sen. Mark Udall and U.S. Rep. Cory Gardner in a Senate race with potential national consequences," Tim Malloy, assistant director of the Quinnipiac University Poll, said in a release. 
What's interesting is the fact that, despite being nicknamed Mark "Uterus" for his singular focus on women's issues, Udall's pull on women isn't that strong. The poll shows him with 45 percent of the female vote, compared to Gardner's 41 percent. Men are much more decided about their candidate—51 percent backed Gardner, while 38 percent backed Udall.
Quinnipac interviewed 974 likely voters from Oct. 15 to 21 by phone.  
Georgia
Georgia's highly contested Senate race is likely heading to a run-off. The latest CNN/ORC poll shows Nunn leading Perdue 47 percent to 44 percent, within the poll's four percentage point margin of error. If neither candidate wins 50 percent of the vote, the race will drag on past Nov. 4.
The upside for the Nunn camp is that, if the run-off was held today, she would lead 51 percent to 47 percent. However, CNN notes that run-off elections can pull a different electorate than the general election.
One factor working in Nunn's favor may be President Barack Obama's slightly higher favorability rating in the state, compared to the other states CNN has polled. 
"That's not saying much—Obama's approval rating among Georgia likely voters is only 44%," said CNN Director Keating Holland. "But that's still better than the high-30s he gets in states like Iowa and New Hampshire, not to mention the low 30s in Kansas and Alaska."
CNN/ORC interviewed 565 likely voters from Oct. 19 to 22 by phone. 
Before it's here, it's on the Bloomberg Terminal.
LEARN MORE