Obamacare Attacks Return for Midterm Finale
Public surveys suggest that there is both an opening and a drawback to the Republican strategy.
by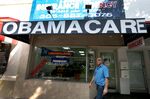 This story contains corrected material, published Oct. 24, 2014.
At the beginning of the year, it was a clear Republican campaign strategy for the midterms: Attack Democrats for their support of Obamacare, and promise to repeal the law.  
But while the GOP is still gleefully pointing fingers at President Barack Obama – and is clearly delighted by his repeated assertion that his legacy is on the midterm ballot – the Affordable Healthcare Act has not proved to be the club Republicans first imagined. Trashing the president's signature legislative achievement is one thing; telling millions of Americans that you might want to take away their new health insurance is far trickier.
Now, with less than two weeks to go before the Nov. 4 elections, the Obamacare attacks are back, according to new campaign ad spending data. Underscoring the renewed push, Republican strategist and super-PAC maven Karl Rove's Thursday column in the Wall Street Journal argued that the law remains a Democratic liability.  
"Democrats created ObamaCare, passed it, own it, and will suffer because of it," Rove wrote.
Public surveys suggest that there is both an opening and a drawback to the Republican strategy. A Gallup Poll  in early October found deep partisan divisions on Obamacare, with 80 percent of Republicans saying the law will make U.S. healthcare worse in the long run and 66 percent of Democrats saying it will make the system better. Independents were divided, with 42 percent predicting worse results, 32 percent predicting things would get better and 20 percent saying it would make no difference. Meanwhile, a Kaiser Health Tracking Poll out this week says voters still don't like the law, but consider it a second-tier issue. They would rather improve the law than repeal it, and think congressional candidates should just move on.
Republicans aren't finding making the case to dispose of the law quite so easy. Senate Minority Leader Mitch McConnell of Kentucky, Senate candidates Thom Tillis in North Carolina and Scott Brown in New Hampshire, Governor John Kasich of Ohio, and New Jersey Governor Chris Christie have all found themselves juggling the rhetorical challenge in the closing weeks of the election.
"They're being very careful about saying something they might be held accountable for later on," Iowa-based pollster J. Ann Selzer said of the Republican approach. "They're banking on the unpopularity, specifically, of Barack Obama. I think that's the strategy. They are opposing it in principle but they're very shy about attacking individual elements of it, because they know how this works."
If you want an example, look to Christie. This week, while speaking at a U.S. Chamber of Commerce event in Washington, the New Jersey governor, who is not up for re-election this year but is chairman of the Republican Governors Association and a possible 2016 presidential candidate, said that Obamacare is "a fiction. It doesn't work and it should be repealed."
"However, what are we going to be replacing it with?" he added. "As Republicans, we have to come out and say exactly what we're for – and I think there will be plenty of time for that after these elections."
McConnell, who stands to control the Senate if his party picks up six seats, was asked in an Oct. 13 debate whether Obamacare and Kynect, Kentucky's health benefit exchange for signing up for a plan under the new law, have been "a boon or bane" for most Kentuckians.  He sought to separate the two, saying that while "in my view the best interest of the country would be achieved by pulling out Obamacare, root and branch," keeping Kynect and and Medicaid expansion are state decisions and his state has decided to go that route. Pressed about whether he favors keeping Kynect, McConnell said, "That's fine" and "I think it's fine to have a website."
Kasich, the Republican Ohio governor and possible 2016 presidential candidate, told the Associated Press that an Obamacare repeal is "not gonna happen" even if the Republicans control both chambers of Congress. Then Monday, he circled back, saying he wasn't talking about the whole law, just the related Medicaid expansion. Medicaid shouldn't be repealed because it's made "real improvements in people's lives," Kasich said, but he's fine with repealing the rest of the law.
In a debate this week, Brown was asked about the prospect of repealing Obamacare, given the tens of thousands of New Hampshire residents who now are covered by it. "You're actually assuming that Obamacare is the only answer and, with respect, it's not," Brown replied, adding that lawmakers could repeal it and then go back and reauthorize popular parts of the law, such as covering pre-existing conditions. "We can develop a plan that works for us," he said. 
In North Carolina, Tillis last year led the push to block Medicaid expansion under Obamacare.  But Tuesday, in a televised Q&A,  he indicated he might favor a Medicaid expansion provided there were financial controls in place.
Despite the challenge, many Republican strategists continue to believe bashing Obamacare remain a winning tactic.  It is "reemerging as a major liability for the Democratic Senate that passed it," Rove, the former adviser to President George W. Bush who advises the Republican super-PAC American Crossroads, wrote in the Journal. "Americans are receiving a steady stream of bad ObamaCare news as the election approaches," Rove added, citing polls, data about about policy cancellations, changes in plan availability and new enrollees losing coverage because they never paid the premiums. He also pointed to a report that premiums for 40-year-old men are rising in states where most of this year's competitive Senate seats now held by Democrats. "All of this creates anxiety, uncertainty and anger, combining to keep opposition to ObamaCare high," Rove wrote. 
Over the summer, the attacks had ebbed as Republicans criticizing the White House turned to other things: a flood of Central American children illegally crossing into the U.S., the rising threat of the Islamic State terror group, and, most recently, Ebola.
At a low point, in the first week of July, there were only 1,378 anti-Obamacare ads on TV in Senate races. But by the week ending October 6, that pace was back up to 6,468, and between Oct. 7 and 13, there were 11,782 anti-Obamacare ads on TV in Senate races across the country, with the biggest concentrations in four of the nation's hottest campaigns: Kentucky, Iowa, Louisiana and Colorado.  
All told, from January through Oct. 13, there have been 141,975 anti-Obamacare ads on broadcast TV and national cable, according to the most recent data made available by Kantar Media's CMAG, a tracking firm.
 --- 
Annie Linskey contributed to this report.
Correction: An earlier version of this story gave the incorrect title for Senate Minority Leader Mitch McConnell.
(Corrects Senate Minority Leader Mitch McConnell's title.)
Before it's here, it's on the Bloomberg Terminal.
LEARN MORE