New York Ebola Case Shows Doctor Quarantine Needed, Chaffetz Says
Peter Cook, Alex Wayne and Kathleen Hunter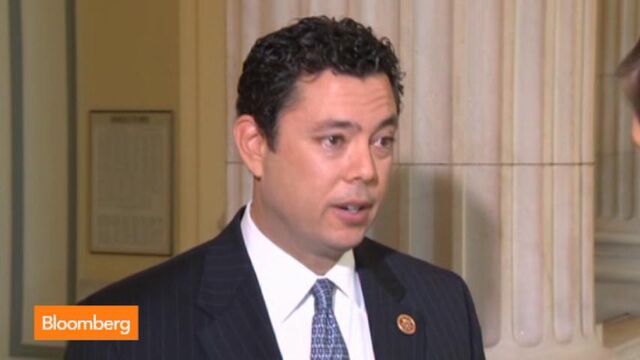 Doctors returning from treating Ebola patients in West Africa should be quarantined for at least three weeks, Representative Jason Chaffetz said today as Congress held a second hearing on the response to the virus' outbreak.
Chaffetz, a Utah Republican, said a New York City doctor's self-monitoring for Ebola symptoms after he returned to the U.S. "didn't work." Doctors should be in "some sort of quarantine or isolation" for 21 to 42 days, he said.
"He went into West Africa to help people who have Ebola," Chaffetz said in an interview today on Bloomberg Television before the hearing. "You gotta love a person like that, but for them to come back, and then be out in the public in such a populous city like New York City. I think that scares a lot of people."
The hearing by the House Oversight and Government Reform Committee is the second in less than two weeks to focus on the Obama administration's response to Ebola, and is being held a day after a New York City doctor tested positive for the virus after returning from treating patients in the affected region.
The doctor, Craig Spencer, 33, is being treated in an isolation unit at Bellevue Hospital Center in Manhattan.
Visited Guinea
Spencer, an emergency medicine doctor at Columbia University-New York Presbyterian Hospital, arrived in New York Oct. 17 and came down with a temperature yesterday. He was in Guinea, one of three nations where Ebola has been raging, for Doctors Without Borders, a humanitarian group.
New York officials are monitoring those who were with Spencer as he traveled on the subway, went bowling and had close contact with several people.
"The American public is very concerned that individuals who have fallen ill with Ebola virus have had significant public contact while they were falling ill," said Representative Mike Turner, an Ohio Republican.
Representative Carolyn Maloney, a New York Democrat, defended the response in Spencer's case.
"I believe they have responded and done absolutely everything right," Maloney said.
Spreading Ebola
Those calling for tighter restrictions on health-care workers should keep in mind that Ebola is spread through contact with the body fluids of a symptomatic person, said Linda Greene, an infection prevention specialist at the University of Rochester in New York and a former board member at the Association for Professionals in Infection Control and Epidemiology.
Not even the family members of Thomas Eric Duncan, the Liberian man who died Oct. 8 of the disease in Dallas, were infected after spending a few days in close quarters with him, said Greene, who was not at the hearing.
"This is not an airborne disease," she said in a telephone interview. "It's important for people to ask questions, but we have to look at the evidence and our understanding of transmission and what we've learned so far from other experiences. Even family members and those individuals who were in close contact with Duncan have passed the 21-day period. I understand the concern but we need to keep the evidence first and foremost."
21 Days
Spencer followed the protocol of Doctors Without Borders, the group said today. For 21 days, the time it takes the virus to incubate, returning workers must check their temperature twice a day, stay within four hours of a hospital with isolation facilities and immediately contact the organization if symptoms such as fever develop.
"People who aren't symptomatic don't pose an infection risk," said Sophie-Jane Madden, a spokeswoman for Doctors Without Borders in London.
Spencer received the new enhanced U.S. screening for travelers arriving from the affected West Africa countries, according to a Centers for Disease Control and Prevention statement yesterday. "He went through multiple layers of screening and did not have a fever or other symptoms of illness," the CDC said. He arrived at New York's John F. Kennedy International Airport.
The U.S. military requires personnel returning from West Africa to spend 10 days in quarantine before boarding a plane back to the United States, Major General James Lariviere told committee. Personnel then have to be monitored by health professionals at their U.S. bases for 21 days.
Issa, Turner
Turner and Representative Darrell Issa, a California Republican and chairman of the committee, questioned whether the 10-day in-country quarantine was sufficient.
"If someone like the doctor in New York who just tested positive is in fact held for 10 days, leaves on an airplane, arrives in New York, and on the 11th or 12th day goes positive, your 10 days will have done nothing," Issa said. "Ten days isn't long enough if that person then travels on a commercial airplane where they can then infect people on an airplane."
Before it's here, it's on the Bloomberg Terminal.
LEARN MORE