New Poll: Martha Coakley Poised to Snatch Defeat from Jaws of Victory
Once seen as a shoo-in, Coakley suddenly finds herself trailing Baker by nine points.
by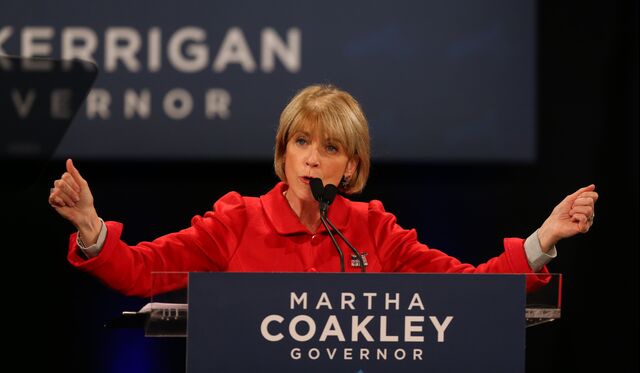 For several weeks now, the question about Martha Coakley was whether she could, once again, blow a race she was highly favored to win. According to a newly released Boston Globe poll, the answer may be yes.
Charlie Baker, the Republican in the race in the overwhelmingly Democratic state, has opened up a 9-point lead over Coakley, 45 percent to 36 percent, the poll found. 
Just a week ago, the paper had the two candidates tied, so there is reason to take a guarded view of the new poll. Then again, voters appear to be warming to Baker at just the right time. 
"There is just positive movement in every single metric we can ask around Baker," pollster John Della Volpe told the Globe. "The more voters have gotten to know him, the stronger he performs."
Coakley, who is Attorney General for Massachusetts, ran in a 2010 special election to fill Senator Edward Kennedy's seat following his death, only to be upset by Republican Scott Brown. 
The new telephone survey of 500 likely voters found Baker more than making up for Coakley's lead among Democrats with solid backing of independent voters, a demographic in which he boasts a 57 percent to 20 percent lead. 
Before it's here, it's on the Bloomberg Terminal.
LEARN MORE