Talking Dual Roles, Clinton Joins Forces With Cuomo
Hillary Clinton appears with the governor as she tours the country touting Democratic candidates — and dropping hints about her own potential campaign message.
by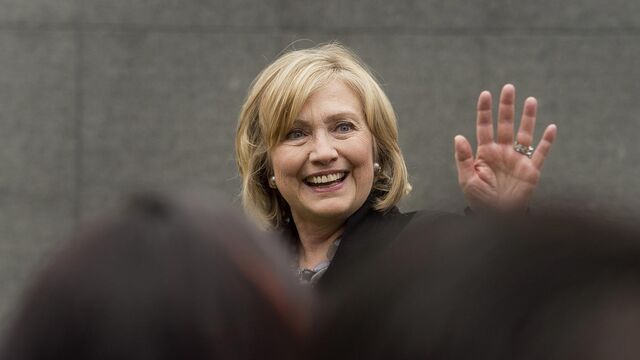 Hillary Clinton is using a series of midterm appearances to offer a sneak peek of what could be a 2016 candidacy, a more female-focused, personal message that would form a key plank in a domestic policy agenda.
Campaigning for New York Governor Andrew Cuomo on Thursday, Clinton talked about her dual roles: grandmother and the country's most powerful female politician. "Let's not kid ourselves, we have not achieved equality. We have made a lot of progress, don't get me wrong, I'm standing here as a prime example of it," she told supporters gathered in a New York City hotel. "But we have not yet seen the kind of progress that will ripple out from this ballroom to every woman in New York and beyond."
Calling for quality childcare, Clinton recounted her desperate search for someone to watch a sick, 2-year-old Chelsea when she was due in court for a trial. With no family in town, she found a friend to fill in, although that didn't relieve the worry she felt throughout the day. And she spoke about how the birth of her granddaughter, Charlotte, reaffirmed her commitment to better family leave policies.
"You don't have to be the grandchild of a president to have the right for the best possible education," she said.
Unlike in 2008, when Clinton wasn't eager to play up the historic nature of her campaign, she's now embracing her mantle as the first woman with a real shot at the presidency. Traveling the country on behalf of Democratic candidates, Clinton has made affordable childcare, paid family leave, and equal pay the core of her message, as she intersperses personal stories with policy prescriptions in her pitch. Clinton has devoted much of her three decades in public life to advocating for children. As a young lawyer she worked on the staff of the Children's Defense Fund, later serving as a board member and chairwoman of the organization. She continued her work on children's issues as first lady of Arkansas and in the White House. Now out of government, she's focusing on women's and children's issues through her family's charitable foundation
In a presidential run, Clinton is positioning herself to capitalize on her support from female voters. Young and unmarried women were a powerful force for Obama in the 2012 campaign, helping him defeat Republican challenger Mitt Romney. Four years earlier, his aides effectively used the historic nature of his candidacy — a chance to elect the first African American president — to motivate voters.
Today's event was a show of unity by two political dynasties on their home turf. Cuomo's father was also governor of New York. And the younger Cuomo was appointed by President Bill Clinton as secretary of Housing and Urban Development. The event marked the first appearance Clinton has made for Cuomo, though the two have marched together in local parades.
While she came to New York via Illinois, Arkansas, and the White House, the state's political establishment has embraced her as their own, and Cuomo's own presidential ambitions have been overshadowed by Clinton's presumed bid.
"They ask me every day about Hillary Clinton: 'What do you think?'" Cuomo said today. "I have my artful line: Hillary Clinton is so good that whatever she does she's going to be an overwhelming success. But there's a postscript to that line which I'll share with you today: I hope she does something really, really, really big."
When asked whether he would endorse her, Cuomo demurred, saying he would not take a position on a race that might never happen. "The question is, does she choose to run?" he told reporters. "It's a personal decision. I went through this with another person named Mario Cuomo." He added: "You can't advise. It's like advising a person on whether they want to marry another person."
Before it's here, it's on the Bloomberg Terminal.
LEARN MORE