NYC Health Worker Tested for Possible Ebola
Henry Goldman and Kelly Gilblom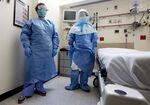 A doctor in New York has tested positive for Ebola, according to a city official with knowledge of the situation.
The patient was identified as Craig Spencer, said the person, who asked not to be identified without authorization to speak publicly. City and state leaders were poised to hold a news conference this evening in Manhattan to discuss the case.
A medical-relief group said a volunteer who fought the epidemic in West Africa reported a fever after returning to the city. Paramedics from a special unit wearing protective gear brought the patient, who returned from an Ebola-stricken country within the past three weeks, to Bellevue Hospital Center, according to a city news release.
The New York office of Doctors Without Borders/Medecins Sans Frontieres, a relief group on the epidemic's front lines, said in a statement that its volunteer reported feeling ill to the organization after discovering the fever during self-monitoring. Doctors Without Borders immediately notified the city, according to a news release from Tim Shenk, a spokesman.
On LinkedIn, Spencer describes himself as a fellow in international emergency medicine at Columbia University-New York Presbyterian Hospital and has worked in that role since July 2011.
'Dedicated Humanitarian'
"The physician is a dedicated humanitarian," the hospital said in a news release. "He has not been to work at our hospital and has not seen any patients at our hospital since his return from overseas."
Dr. Les Roberts, an associate professor at the hospital, said in an e-mail from Sierra Leone that "Craig is one of the most brilliant and delightful people I have ever had the pleasure of working with and I will hold a good thought for him as we struggle on with this outbreak."
Almost 10,000 people in West Africa have been infected with Ebola and about half have died, according to the World Health Organization.
Yesterday, the CDC said anyone traveling to the U.S. from Liberia, Sierra Leone or Guinea would be monitored for 21 days, the maximum incubation period for the virus. Travelers leaving the countries are already checked at the airport before boarding, and about 36,000 people have been screened.
The agency has tested about 50 people for Ebola over the past few months, according to Barbara Reynolds, a spokeswoman. New York health workers are tracing all the patient's contacts, according to the city's statement. Anxiety over the virus increased sharply last month when a Liberian man brought the disease to Dallas.
Bellevue, an 828-bed Midtown hospital, has been designated as one of four facilities for Ebola treatment in New York, a city of 8.4 million. It has four single-bed rooms in its infectious-disease ward to receive high-probability or confirmed cases and a laboratory to handle blood samples, according to New York City Health and Hospitals Corporation.
Before it's here, it's on the Bloomberg Terminal.
LEARN MORE