Worst Debate 'Question' Ever: Say Something Nice About Your Opponent
For a surprising number of politicians, offering praise to an opponent does not come easy.
by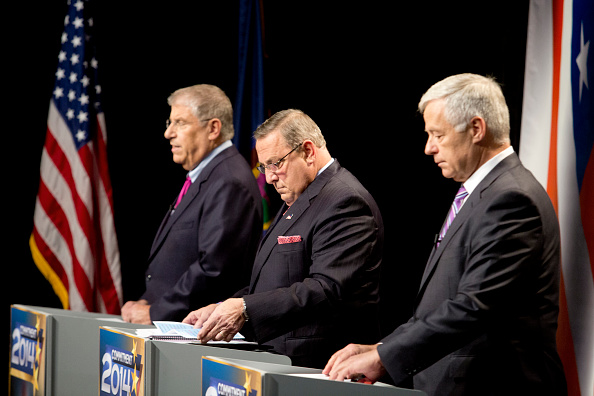 For political journalists and voters who are either desperate to pull candidates out of their attack-dog routines, or who are too lazy to come up with anything more substantive, it has become a standard filler question during a debate: Can you say something nice about the opponent you've been busy tearing to shreds over the past few months? 
The punchline to this counterintuitive query, of course, is that some candidates seem almost constitutionally incapable of anticipating it, thereby transforming what should be a humanizing moment into still more negative headlines and political point-scoring. 
Here are three head-shaking examples from the 2014 campaign.
Mean in Maine
During Tuesday night's gubernatorial debate in Maine, a viewer sent in the following question:
I would love to hear each candidate speak to a few good things that each candidate has proposed, I am tired of the slamming!! Grow up!
Independent candidate Eliot Cutler and Democrat Representative Mike Michaud had no problem citing welfare reform and legislative acumen among Republican incumbent Paul LePage's skills. The governor wasn't so kind, however. After reeling off a list of his own accomplishments, the moderator reminded him he was supposed to be singling out the positive qualities of the men hoping to replace him, to which LePage replied: "My opponents, I don't know. I don't follow them."
What's the Matter with Kansas?
On October 15, it was GOP Senator Pat Roberts' turn.  Independent challenger Greg Orman noted Roberts' military service as a Marine, kindness and sense of humor. Roberts, on the other hand, seemed a tad more reluctant to heap praise on Orman. 
"Well, semper fi, Greg. Marines take the hill," Roberts said. "I would say that you are a very well-dressed opponent. I admire your accumulation of wealth. I have a little question about how you got there from here, but that's the American dream."
Wisconsin Cheese
During their October 10 debate, Wisconsin Governor Scott Walker and his Democratic opponent, Mary Burke, were asked, "What is one thing that you're opponent brings to the table that you see as a positive to leading this state for the next four years?" 
Walker didn't hesitate, saying he respected "the philanthropic activities my opponent has been involved in."
Despite answering second, Burke stumbled, letting a long pause pass before pointing to Walker's work on domestic abuse. 
Well, come to think of it, there may be something worse than the "say something nice" debate request: a politician that can't come up with a prompt and courteous reply. 
Before it's here, it's on the Bloomberg Terminal.
LEARN MORE