The Pollster That's Making Democrats Panic All Over Again
A new poll of Colorado is like a greatest-hits of Democratic nightmares.
by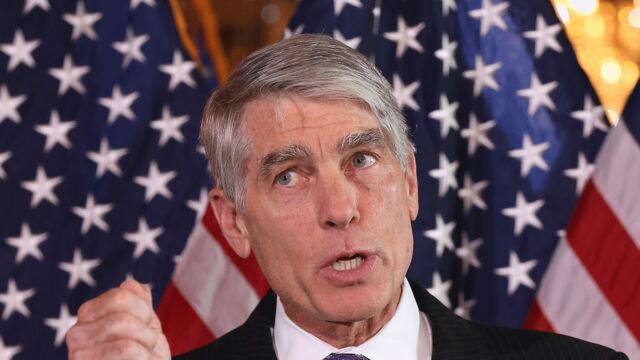 Democrats look at the U.S. Senate race in Colorado and see their third consecutive chance to defy the polls. In 2010, the final batch of polling suggested that appointed Senator Michael Bennet would lose his seat for the Democrats by 3 points. He won it by 1 point. In 2012, the number wizards saw a razor-thin, 1.5-point contest between Mitt Romney and Barack Obama, and plenty of pundits assumed the GOP would take the state back. Obama won it by 5.4 points. So, the thinking this year, was that if Senator Mark Udall could keep it close, surely, surely the Democratic ground game could push him, wheezing and bandaged, over the finish line to victory.
That was the theory, anyway. Then came today's USA Today/Suffolk poll, which has Gardner in the lead, 46-39 over Udall. It rolled like a grenade into the polling averages, giving Garder a lead outside the margin of error. It challenged the theory that some under-counting of Hispanic votes, a problem in 2010 and 2012, could have been missing a Udall base. In cross tabs, 337 of the 438 people polled, or 77 percent were white. In 2010 the electorate was 81 percent white; in 2012, it was 78 percent. Udall, who narrowly won the white vote in 2008, is getting utterly rejected by white voters in the time of Ebola.
Just a week ago, the robo-pollster Survey USA released two different sets of Colorado numbers that looked bad for Democrats, but seemed to offer hope that Hispanic voters could ride in and save them. Nate Cohn talked to that pollster about the methodology, and I called up Suffolk's David Paleologos to find out how they avoided the Hispanic under-count.
"We have quotas for the different demographics," he said. "I think the quotas are right in terms of the proporations of whites, Hispanics, men, women, and so on. You have Gardner winning by over 27 points with whites, but getting crushed with non whites. If Dems can do a heavy voter pull among Hispanics, it's going to change the outcome."
Democrats would like to believe that, and they would also like to believe that Suffolk was wrong. In late 2012, on an episode of The O'Reilly Factor which will live in infamy, Paleologos announced that Suffolk would give up polling Virginia, Florida, and North Carolina in the weeks before the election. "We've already painted those red," he said. Voters subsequently painted two of them blue, albeit by narrow margins.
"It wasn't the polling that led to that judgment," Paleologos explained to me today. (We'd previously discussed this in 2012.)  "It was our judgment in terms of incumbency. I was looking at states where Obama was at 46, 47." According to the "incumbent rule," a superstition that the party in power may lose if it's not cracking 50 percent, it looked like Obama would lose all the undecideds and be retired by Mitt Romney.
"That election changed the incumbent rule," said Paleologos. "That changed the rule of thumb. The correct threshold for danger used to be 50. What's the correct threshold now? Is it 45 is it 42. I'm not sure, but I'm not saying the race is over in Colorado."
Udall would be in better shape if he was polling at a mere 45 percent. Suffolk's numbers had him at 39, with high negative ratings. And Democrats saw this hours after David Catanese published the first inside look at the increasingly confident Gardner ground operation, which send hundreds of volunteers out to canvass, taught some of them Spanish, and successfully grubbed resources from the NRSC even when Gardner seemed to be losing.
Before it's here, it's on the Bloomberg Terminal.
LEARN MORE