The $4 Billion Midterms (Yes, That's a Record)
Super-PACs are contributing to the most expensive midterm elections in history.
by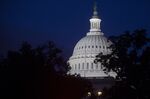 The 2014 congressional elections are, officially, the most expensive midterms ever. The price tag? About $4 billion, beating 2010 by $400 million.
That's the initial projection by the Center for Responsive Politics, which tracks campaign giving and has produced cost estimates of federal elections since 1996.
So what does $4 billion get you?
It exceeds the total value of the New York Yankees and is more than twice the combined value of this year's World Series contenders, the Kansas City Royals and the San Francisco Giants. As a stack of $1 bills, $4 billion would stretch for about 270 miles, greater than the distance from Washington to New York. An individual with a $4 billion net worth would rank among the world's 400 wealthiest individuals, according to the Bloomberg Billionaires Index.
Pro-Republican spending in the 2013-14 House and Senate elections is projected to be at least $1.92 billion compared at least $1.76 billion on the Democratic side. That comes out to a slender Republican advantage of 52 percent to 48 percent, which is also what many analysts believe will be the final breakdown of the Senate. 
The total dollar amount includes spending by the candidates and parties, plus outside groups like super-PACs, which are permitted to accept donations in unlimited amounts. The 2014 elections are the first full midterms to feature super-PACs, which emerged late in the 2010 campaign after some court rulings and regulatory action loosened restrictions on outside spending.

CRP will issue a revised estimate to include spending for September, October and early November. Campaign activity for September was reported to the Federal Election Commission just within the past week, and the next batch of reports due Thursday will disclose donors and spending for the first half of October.
The initial estimate doesn't include spending well before the election on so-called issue ads that didn't directly advocate for the election or defeat of candidates. That spending isn't reported to the FEC. This subset of spending would include ads by the limited-government nonprofit Americans for Prosperity attacking Democratic senators on Obamacare amid its troubled rollout. (The Campaign Legal Center has a good chart summarizing the federal political advertising rules.)
Most federal candidates and committees are required to file their disclosure reports electronically, though any analysis of campaign spending is complicated by delays in Senate candidates and committees that file their reports on paper. The Senate is exempt from the electronic-filing requirement.
For more on CRP's projection, click here.
Before it's here, it's on the Bloomberg Terminal.
LEARN MORE