Shaheen Tags Brown as 'Fearmonger' in New Hampshire Senate Debate
The New Hampshire senator goes on offense in the closing weeks of the campaign.
Annie Linskey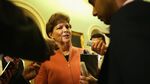 Democratic Senator Jeanne Shaheen accused challenger Scott Brown of being a fearmonger multiple times in their first televised debate, going on offense in the closing weeks of the campaign.
Brown, who mostly ignored the charge, used his time to push national themes and tie Shaheen to President Barack Obama's policies. He remind viewers about threats the U.S. posed by the Islamic State; Ebola and illegal immigration. He remained respectful toward Shaheen — especially her work as governor of New Hampshire — but expressed dismay about her tenure as senator. "Unfortunately when she went to Washington she changed," Brown said. 
Brown avoided personally attacking Shaheen, learning a lesson perhaps from his 2012 Massachusetts Senate debates with Elizabeth Warren. Then he was seen as pushing her too hard on her claims of Native American heritage. 
Shaheen tried to steer her answers toward local issues or causes she's helped. When asked for a yes-or-no answer on whether she approves of how Obama is doing his job, she ducked the question. "In some ways I approve, and in some ways I don't approve," she said. 
It was moderated by NBC's Chuck Todd, who hosts "Meet the Press." The high-profile questioner underscored the significance of the contest, which recent polls show is within a few percentage points. Brown is used to being in the spotlight — one of his 2012 debates was also moderated by then-"Meet the Press" host David Gregory. 
Best moments for Shaheen
Jeanne Shaheen has a sly way of pouncing on opponents with a smile — and midway through the debate Scott Brown gave her that chance. He misstated her record, saying that she was opposed to nuclear energy. "No I'm not. Where did you get that?" she asked, in a puzzled tone. It was the only part of the exchange that knocked Brown off his game. 
She also had a strong closing statement, taking the time to remind viewers that Brown considered several other bids for political office after his 2012 Senate defeat in Massachusetts before settling on the New Hampshire Senate race. "I don't think New Hampshire is a consultation prize," she said. "I think we need a senator who is going to put New Hampshire first." 
Best moments for Brown
In one part of the debate, Shaheen asked Brown about tax policy, questioning why he'd support proposals that give U.S. companies tax benefits for "outsourcing" jobs overseas. Brown denied that premise and then hit back with a zinger. "Outsourcing has a lot of different meanings," he parried. "When you were elected you said you would be independent, and you outsourced that independence." 
Brown also scored points when Chuck Todd asked him what metric he'd use to determine whether the country's southern border is secure. It's secure "when no one can come across it," Brown said, getting a big cheer from the audience. 
Ebola
The hemorrhagic disease that's killed hundreds in West Africa was the first debate topic. Brown has been calling for a travel ban from the impacted countries. Shaheen has opposed such a ban ... until recently. During Tuesday night's debate she said a travel ban is something that the country needs to "look at" instating. "We don't need people who are fearmongering," she added.  
Islamic State
Brown said that the president should remain open to putting ground troops in Iraq to fight the Islamic State. "We may need ground troops. ISIS is not taking anything off the table." Brown said, adding, "What if air strikes don't work?"
"I don't think we should send back an occupying force," Shaheen countered.
Immigration 
Shaheen accused Brown of "grandstanding" on the issue of immigration, saying he is "trying to make political hay out of border security." She said that she supported a Senate immigration overhaul that would have, among other things, provided more funds for border agents and a longer fence.  Brown said the border must be secured before any other part of the nation's immigration system is changed. 
Marijuana
This was the one area on which the two candidates found common ground. Neither wants to see marijuana legalized for recreational use. 
Before it's here, it's on the Bloomberg Terminal.
LEARN MORE