House Shoo-Ins Send Money to Candidates in Need
Some likely new members of Congress are giving away campaign funds to candidates who are in more competitive elections.
by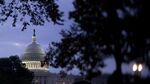 Don Beyer probably could glide into Congress on Nov. 4 even if the Virginia Democrat didn't spend another nickel of the $168,469 left in his campaign fund.
Beyer, a former lieutenant governor who's been a fundraiser and ambassador for President Barack Obama, is a shoo-in to succeed retiring Democrat Jim Moran in the safely Democratic 8th District near Washington. With his general election uncompetitive, and eager to aid Democrats in tight races, Beyer has been unloading campaign funds to Democratic groups and candidates more in need of financial support.
He's not alone in spreading his cash around. Soon-to-be freshman from both parties whose November victories are all but in the bank are currying favor with their prospective colleagues and illustrating the sort of team-player-attitudes that could impress the leadership and ease the way for prime committee assignments and other perks. 
Beyer sent $101,000 to the Democratic Congressional Campaign Committee, the campaign arm of House Democrats, in four increments during August and September. He sent another $100,000 to the Virginia state party for its "coordinated campaign" to elect Democratic candidates at all levels. His campaign also donated directly to a few Democratic candidates.
Beyer said he's not overlooking his own race, while seeing opportunities "to help others." He mentioned two Democrats seeking Republican-held districts on opposite sides of the country: John Foust, a Fairfax County supervisor who's an underdog to Republican Barbara Comstock in the open and more Republican-friendly 10th District (which abuts the district Beyer will win), and Pete Aguilar of California, who's favored to win a district that includes part of San Bernardino County.
California Republican Mimi Walters, who's heavily favored to win an open Orange County congressional district in and around Irvine, donated a total of $25,500 to a dozen House candidates and the California Republican Party through the end of September, according to the most recent campaign-finance filings.
She's since intensified her giving. David Gilliard, Walters's general campaign consultant, said that Walters has given about $250,000 in campaign funds to date to Republican candidates and committees through her congressional campaign committee and a leadership PAC she set up in June.
Walters has donated funds to the National Republican Congressional Committee, the campaign arm of House Republicans. The NRCC has set a goal of increasing its majority to 245 seats from 234.
"She understands that keeping the majority is going to be a big part of her effectiveness as she enters Congress. She's happy to be able to help," Gilliard said.
Certain to join Walters in the 114th Congress next January will be Democrat Mark DeSaulnier, a California Senate colleague who's also donating funds from his congressional campaign fund as he prepares to succeed retiring Democrat George Miller in Contra Costa County near San Francisco.
DeSaulnier's campaign sent $50,000 to the DCCC on Sept. 30. His campaign didn't return e-mail and telephone requests seeking comment.
Like Walters, Beyer has created a leadership PAC. At least two more likely new House members have done the same.
Before it's here, it's on the Bloomberg Terminal.
LEARN MORE