GOP Group Readies 1,000-Lawyer Army for Election Day
With Election Day fast approaching, both parties have legal teams ready for voting challenges or whatever else might happen.
by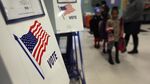 Unlike most Election Days, this one has a decent chance of ending without a clear winner. Blame the excruciatingly tight races around the country that could lead to recounts, the two potential runoffs that may dictate control of the U.S. Senate, and the Supreme Court for taking action on state voting laws just weeks before Election Day. 
But one thing is clear: an army of lawyers is readying for kind of battle not witnessed since Florida in 2000. 
The weeks and months leading up to this year's midterms have meant a mix of heavy preparation, equally heavy anxiety and a lot of waiting for a subset of the legal community. In an ideal world, their services will never be needed. In a worst case scenario, their skills may determine the trajectory of the U.S. government for years to come.
Their ranks will be deep and diverse by Election Day. One Republican group, alone, is estimating it'll have roughly 1,000 lawyers trained by then. They will include the campaign lawyers and their hired outside legal counsel. The national party operations also have legal arms, as do each of the party's House and Senate campaign committees.  Then there are the thousands of lawyers, from civil rights advocates to lobbyists, ready to come in on a volunteer basis should the need arise.
"There's no perfect election, there just can't be. It's too big of a human system," says Edward B. Foley, the Director of Election Law at Ohio State University's Moritz College of Law. "To the extent that anything gets a little messy, that's where the lawyers come in."
Officials on both sides are wary of going into detail about what their election legal plans entail (can't give the other side any early intelligence, they say), but both national parties have had people on the ground in Georgia and Louisiana—the two states where runoffs look increasingly possible—for months preparing for the possibility.
Then there are the recounts. Since the 2000 presidential election, legal teams in both parties have vowed never to be caught off guard by a recount again. Rare as they are, recounts are always a focus of legal operations, says Foley, who said polls have made clear that "this really could go beyond Election Day."
The 537 votes that separated George W. Bush from Al Gore in the 2000 election helped create a mentality that Pratt Wiley, the Democratic National Committee's national director for voter expansion, likened to going on offense. Under Wiley's watch, Democrats have placed full-time staffers focused solely on poll access issues in 23 states. While litigation is an element of their strategy, there is just as much focus in the months leading up to Election Day on educating voters, preparing volunteers and working with election administrators.
"This isn't a three-days-before-Election Day program," Wiley says. "We think of ourselves more as organizers than lawyers."
The DNC will give their poll workers "incident trackers"—mobile apps that will allow for real time reports to state directors on any issues that arise on Election Day that may affect voters. While political trickery is on the radar, the reality is that more mundane issues—such as broken voting machines or inclement weather—will come up. Contact can be made with the administrator or the state director can fire off a mass text or e-mail to their voters, keeping them up to date on any extended voting hours or contingency plans. "Often times the best resolutions aren't legal resolutions," Wiley said.
As campaigns have evolved in their ability to identify and target their voters, the relationship between the political and legal side of each party's operation has grown in importance, says Sean Cairncross, the former general counsel for the National Republican Senatorial Committee and chief counsel to the Republican National Committee. The voter models create guideposts for the legal teams to track for problems. If there are ballot issues in areas heavy with GOP voters, it naturally is more likely that the party's lawyers will try to take action, he said.  
"It's the 'Moneyball-ization' of politics," Cairncross laughs, referencing the Michael Lewis book on how statistical gurus moved into Major League Baseball. "Every iteration is more and more metrics based."
The national party lawyers also aren't alone. Volunteers from groups across the ideological spectrum are involved on the legal side.  The Lawyers' Committee for Civil Rights Under Law, for instance, is keying on state voting laws that have become partisan battlegrounds in recent years. It has created its own smartphone application that allow users to confirm their registration, find their polling place and access details of the state voting rules.
The Republican National Lawyers Association will have held more than 50 election law training sessions by Election Day with party-aligned lawyers. Through trainings, volunteers and members, more than 1,000 lawyers will be ready for action by Nov. 4, according to Michael Thielen, the group's executive director. The group has contacts across country that campaigns and local parties can utilize if issues arise.
Federal court rulings on state voter identification laws and early voting period rules—and the actions taken by the Supreme Court in four states that followed—are unlikely to have a major impact this year, lawyers on both sides say. But that doesn't mean state-based skirmishes are over. 
To be sure, U.S. elections tend to be a fairly seamless process (save for increasingly long lines.) In 2012, Democratic legal teams set up in Chicago and their Republican counterparts in Boston spent the day dealing with minor issues, but for the most part weren't required to engage. But this year it looks increasingly likely that one element that was missing in 2012 will make legal teams a major factor.
"The issues become magnified with a narrow election," Cairncross, now a partner at Holtzman Vogel Josefiak PLLC in Washington, says. "The closer the election, the more granular the examination of what happened."
Also on Bloomberg Politics: Republicans Pounce On Obama's Midterm Misstep
Before it's here, it's on the Bloomberg Terminal.
LEARN MORE