Blackwater Guard Found Guilty of Murder in Iraq Shooting
Andrew Zajac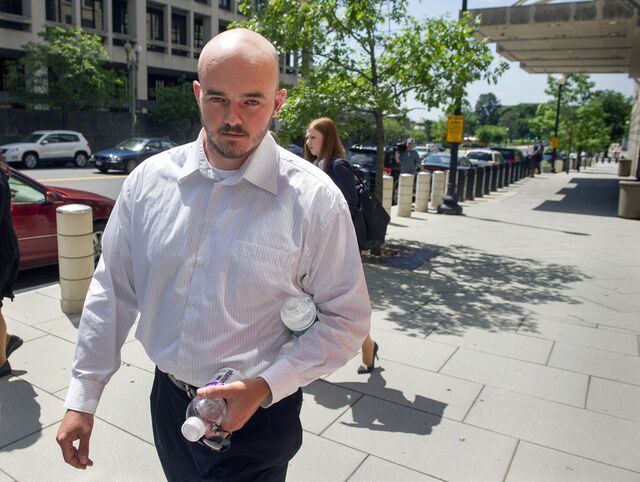 A former Blackwater Worldwide guard was convicted of murder and three co-workers of manslaughter in the 2007 shootings of 14 unarmed civilians in a Baghdad square - - an incident that stained the U.S. record in Iraq and led to new controls on military contractors.
The shooting in Nisour Square, along with the killings by Marines of 24 civilians at Haditha and the abuses of detainees at the Abu Ghraib prison were three of the most notorious cases of misconduct by U.S. personnel in the Iraq war and inflamed anti-American sentiment in the region. One of the four guards may face a life sentence while the other three were convicted on multiple charges, some of which carry 30-year terms.
The failure of the U.S. to quickly investigate and prosecute the Nisour Square killings soured Iraqi public opinion just as the U.S. was making headway with a troop surge to quell sectarian violence, said Peter Mansoor, who served as executive officer in 2007 and 2008 to General David Petraeus, the commander of the multinational force in Iraq.
"There could have been greater good done with swifter dispensation of justice," said Mansoor, now a history professor at Ohio State University.
"In the grand sweep of U.S.-Iraqi relations, this will not be a huge gain," he said of the verdict. "We're now seven years removed. That's a long time."
'Shoot Ups'
The Nisour Square shooting influenced changes in U.S. counterinsurgency policy which put "greater restraint on the use of force" and more control on contractors to reduce the risk of "shoot ups by groups not under the military chain of command," according to Michael O'Hanlon, a senior fellow at the Brookings Institution in Washington, who studies U.S. defense strategy and use of military force.
"It's obviously up there with Abu Ghraib and a couple of other events as one of the signature mistakes of the war," O'Hanlon said in a phone interview before the verdicts.
The shootings also affected a U.S. decision to allow American contractors to be subject to Iraqi law while working in the country, O'Hanlon said. "That's a huge concession," he said.
The guards, who were hired to protect State Department personnel, were accused by prosecutors of going on an out-of-control shooting spree, firing recklessly on unarmed civilians, killing 14 and wounding 17. Defense lawyers argued the guards had reason to fear they were under attack and fired in self-defense following a car explosion.
Nine Weeks
A federal jury of eight women and four men in Washington returned the verdicts after almost nine weeks of deliberations. Nicholas Slatten faces a sentence of life in prison for murder, while Dustin Heard, Paul Slough and Evan Liberty face as long as 30 years in prison each on a weapons charge and 15 years for manslaughter. All four were ordered immediately to prison pending sentencing, which hasn't been scheduled.
"We were shocked," David Schertler, a lawyer for Heard, said in a phone interview after yesterday's verdict. "This is just a bad result in a case I don't think the jury could fully comprehend." Schertler said he will appeal.
Blackwater, which had been among the most prominent military contractors in Iraq, was banned from the country in the aftermath of the incident.
The company changed its name to Xe Services LLC in 2009. Founder Erik Prince sold his stake in 2010 to an investor group that changed the name in 2011 to Academi LLC, now based in Reston, Virginia.
Mohamad Al Quriashy, the deputy chief of mission for the Iraqi Embassy in Washington, welcomed the news of guilty verdicts as they trickled out of the courtroom to the hallway where he stood waiting.
Innocent People
"There were innocent people killed," Al Quriashy said. "They did nothing. They didn't carry any weapons."
Al Quriashy said that while the U.S.-Iraqi relationship is strong and would withstand any verdict, the guilty findings would be hailed by ordinary Iraqis
"Seven years ago, these Blackwater contractors unleashed powerful sniper fire, machine guns and grenade launchers on innocent men, women and children," Ronald Machen, the U.S. Attorney for the District of Columbia, said yesterday in a statement. "Today, they were held accountable for that outrageous attack."
Defense lawyers characterized the shootings as a tragic accident triggered by insurgent small-arms fire on the Blackwater convoy and the suspicious movement of a white Kia sedan approaching the traffic circle.
The near-instant reaction to perceived threats was necessary for self-defense and shouldn't be second-guessed, Brian Heberlig, an attorney for Slough, told jurors in his closing argument.
Bombs Real
"Car bomb threats were real; this wasn't Dupont Circle," Heberlig said, referring to the intersection several blocks north of the White House.
The defense tried to cast doubt on the government account of the shootings, contradicting prosecution assertions on key points such as which guard fired first and why.
Assistant U.S. Attorney Anthony Asuncion contended that Slatten began the carnage by unnecessarily killing Al Rubia'y, who was driving the Kia, with a rifle shot to the victim's head from Slatten's perch in an armored vehicle.
Only after Al Rubia'y was shot did the car begin to move because his foot came off the brake pedal, according to prosecutors.
Drew Fire
Al Rubia'y's car drew fire because it began to move toward the convoy and the shooter wasn't Slatten, Heberlig told jurors.
"My client, Paul Slough, fired the first shots, to the engine block," of the car to try to stop it, Heberlig said.
The defense placed much of the blame for indiscriminate gunfire on Jeremy Ridgeway, another member of the Blackwater convoy who pleaded guilty to manslaughter and testified against his former co-workers.
Slatten was only charged with murder. Slough, Liberty and Heard were also convicted of the weapons offense and multiple counts of attempted manslaughter. They also face maximum sentences of seven years for attempted manslaughter.
Defense lawyers contended during the case that as State Department contractors, the Blackwater defendants were outside the scope of the Military Extraterritorial Jurisdiction Act, which sets conditions under which the U.S. can prosecute non-Defense Department contractors working internationally. The prosecution stalled for years in a court battle over statements the defendants made to State Department officials in the aftermath of the shootings.
Self Incrimination
Because they were threatened with firing unless they gave statements, the guards argued the use of that information by prosecutors violated their constitutional rights against self-incrimination. An appeals court ordered the trial judge to sift out self-incriminating statements from evidence prosecutors gained independently.
The cases are U.S. v. Slatten, 14-cr-00107, and U.S. v. Slough, 08-cr-00360, U.S. District Court, District of Columbia (Washington).
Before it's here, it's on the Bloomberg Terminal.
LEARN MORE