Shock Ad: A Gun That Stopped A Lynching
John Barrow, among the most endangered House Democrats, goes for broke with pro-NRA ad.
by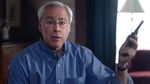 A lynching and a gun are the focus of a last-minute, go-for-broke TV ad by embattled Representative John Barrow, a Democrat struggling to win re-election in Georgia as Republican attack ads rain down around him.
"We all know how Washington Democrats look down on people who carry firearms, but I know better," he says, citing his grandfather's role in helping to stop a lynching and touting his endorsement from the National Rifle Association. 
"He couldn't have done it if he couldn't have carried it with him," he says, picking up his grandfather's revolver. "Like my daddy used to say, you never really need a gun, unless you need it bad."

Here's the full ad:
The commercial may not be enough to drag Barrow over the finish line; he's ranked among the 13 most vulnerable House incumbents in his party by the nonpartisan Cook Political Report. But it may be one of the best – and starkest – examples of a candidate trying to find a way to break through the din of campaign ads clogging the television airwaves. 
Before it's here, it's on the Bloomberg Terminal.
LEARN MORE