These Republican Senators Anted Up to Win Majority
It's more than twice the total the NRSC received from Republican senators' campaign committees during the entire 2011-2012 cycle.
by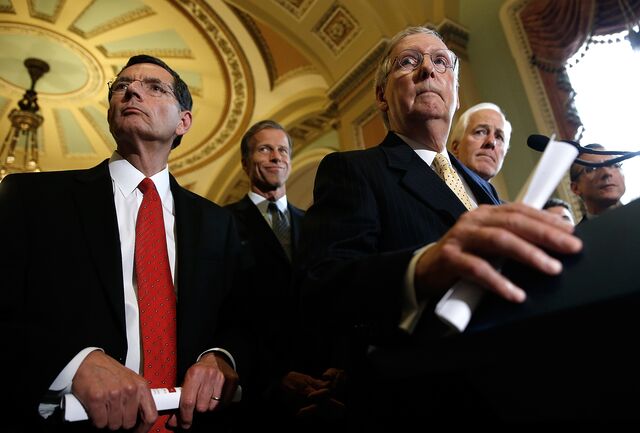 Senate Republicans, bullish about a return to the majority after eight years of Democratic control, are helping their party's political effort on a scale they haven't before.
In September alone, 29 Republican senators — about two-thirds of the 45-member conference — together transferred about $2.9 million from their personal campaign accounts to the National Republican Senatorial Committee, according to a filing the NRSC made to the Senate public records office.
That total is more than twice the $1.2 million that the NRSC received from Republican senators' campaign committees during the entire 2011-2012 election cycle, according to Federal Election Commission data. By tradition, Democratic senators have given far more to their campaign organization.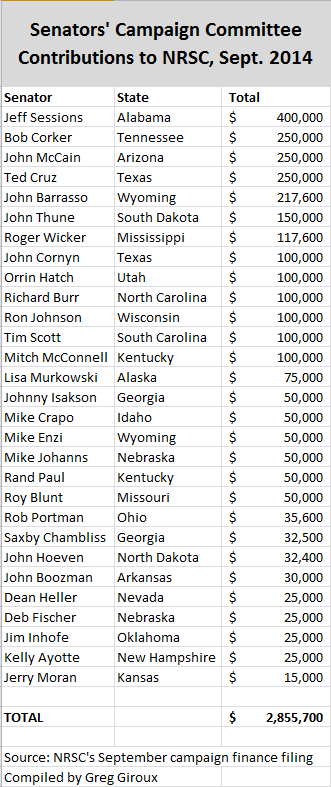 Members of Congress are permitted to transfer campaign funds to national party committees in unlimited amounts. The members can build up huge mountains of cash after many years of service and easy re-election campaigns. Senator Jeff Sessions of Alabama, whose $400,000 contribution was the biggest to the NRSC in September, is unopposed in the Nov. 4 election.
Senators John McCain of Arizona, Ted Cruz of Texas and Bob Corker of Tennessee each transferred $250,000 to the NRSC; none is up for re-election this year. Minority Leader Mitch McConnell, who has a competitive re-election campaign and the most to gain if his party can flip Senate control, sent $100,000 to the NRSC last month.
With a favorable Senate map and President Barack Obama's job approval rating around 40 percent, Republicans have a great opportunity to make the net gain of six seats that they need to win the majority. There are at least 11 states with competitive races for Senate seats presently held by Democrats. Just three Republican-held seats are up for grabs.
Before it's here, it's on the Bloomberg Terminal.
LEARN MORE