Obama Hands GOP Perfect Sound Bite for Tight Races
Democrats trying to put as much as distance as possible between themselves and the president are not going to like this.
by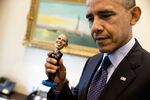 Republicans have found a surprising new chief spokesman in their effort to tie Senate Democrats to Barack Obama: the president himself.
The president delivered the GOP's top talking point in explaining to MSNBC's Al Sharpton why he supports Democrats who don't want him to campaign for them in Republican-leaning and swing states.
"The bottom line is, though, these are are all folks who vote with me," Obama said. "They have supported my agenda in Congress."
That's exactly the point Republicans have been making in Alaska, North Carolina, Colorado and other states where Obama's diminished approval ratings are a drag on Democratic incumbents.
For example, Republicans have hammered Senator Mark Udall of Colorado for having voted with Obama 99 percent of the time in 2013 when Obama took a position on legislation -- a figure based on data compiled by Congressional Quarterly.
Expect to see "folks who vote with me" in the next round of GOP advertising.
Also on Bloomberg Politics: Clinton-Pelosi Alliance Recasts Presidential Politics
Before it's here, it's on the Bloomberg Terminal.
LEARN MORE