Kasich Likes the Medicaid Expansion, Just Not the Law that Created It
Obamacare's Medicaid expansion is not Obamacare, according to Kasich.
by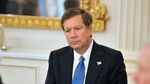 For a few brief hours, it seemed that Obamacare was enjoying support from an unlikely source: Republican John Kasich, the governor of Ohio.
The Associated Press reported Monday that Kasich predicted  the health care law wouldn't be repealed, and that the opposition to it was "really either political or ideological." Within hours, Kasich was arguing that the AP got it wrong, and that while he supported the Medicaid expansion, he doesn't think it's connected to the law that funded and created it. 
"I don't see how supporting Medicaid is the same as supporting Obamacare," Kasich told The Wall Street Journal after the AP story was published.
The AP story focused on GOP governors — including Kasich, Iowa's Terry Branstad, and Utah's Gary Herbert — who believed that their party wouldn't be able to repeal Obamacare's Medicaid expansion. Kasich said that repeal wasn't going to happen.  
Here's how his comment originally appeared in the AP:
As Kasich later clarified, he was only referring to the Medicaid expansion (a.k.a. the part of Obamacare he likes), but his comments were taken as an endorsement of the whole law.
"Soooo Kasich kinda just endorsed Obamacare here right?" tweeted Sarah Kliff at Vox.
"Obamacare repeal 'not gonna happen,' insurance expansion helps people – wait, a Republican said that?" wrote Jonathan Cohn at The New Republic.
"Kasich either has no interest in running for president or possibly remaining in the Republican Party at all, or he will soon be delivering a groveling apology,"  argued Jonathan Chait at New York magazine.
Chait ended up being mostly right, in that Kasich quickly responded that the Associated Press was wrong.
"I've always thought if we got a majority we would repeal Obamacare,'' he told The New York Times. "My only point was they'd probably make an accommodation for Medicaid expansion.'' 
He told Politico that "from day one, and up until today and into tomorrow, I do not support Obamacare." Asked why he would say that Obamacare's Medicaid expansion is a moral choice to help the poor if he disliked the law, Kasich responded:  "I have favored expanding Medicaid, but I don't really see expanding Medicaid as really connected to Obamacare," he said.
The AP added the following update late Monday:
Kasich called The Associated Press Monday night to clarify that he was speaking specifically about a repeal of Medicaid expansion and not of the entire Affordable Care Act — although opponents in Washington don't usually draw such distinctions.
Kasich was one of the first GOP governors to expand Medicaid, by circumventing his state's Republican legislature. Lucky for Kasich, it doesn't really matter what he says about Obamacare or Medicaid — Ohio's gubernatorial race on November 4 is rated "Safe GOP" by Real Clear Politics, and he's expected to win in a landslide.
Before it's here, it's on the Bloomberg Terminal.
LEARN MORE