How the Improved News About Ebola Could Still Hurt Democrats
Sure, things are looking up in the effort to contain Ebola, but the good news may be coming too late for Democrats.
by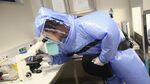 On Monday, Americans woke up to positive reports about Ebola: The World Health Organization declared Nigeria free of the disease. A Spanish nurse, the first person outside Africa to be infected with the virus, was improving. And dozens of people in Dallas who had been exposed to the disease were cleared. 
But for Democrats, the politics of the nation's response to the crisis remain grim.  Already trying to overcome the president's low approval ratings, and faced with a base that is less motivated to vote than the GOP,  Democrats are trying to fend off a Republican narrative that the administration's response to Ebola is one more example of Democratic hesitancy and incompetence, a closing argument to the voters that it is time to turn the page. Public polling suggests that the argument could be gaining traction—and with a handful of close races likely to decide which party controls the Senate, the Democrats have little room to maneuver.
"[Ebola] feeds into an attempt by some Republicans to undermine the proper role of government,'' said Jim Manley, a Democratic political strategist who has worked for Senate Majority Leader Harry Reid. "There's so much angst out there from the American people right now. Republicans are seizing on every chance they can to try and undermine the people's views of proper role of government."
Of course, those worries could recede over the next two weeks if no new cases of the disease are diagnosed in the United States. "It is just a political reality that bad news usually hurts the party of the President,'' said Paul Begala, a Democratic strategist. "That said, as the government's response sharpens, as the contagion is limited, and then killed, it makes the case for government."
Here are four reasons why Ebola politics worry Democrats.
The Ticking Clock
With just about two weeks before Election Day, time is a candidate's most precious commodity. In debates, interviews, and on the campaign trail, Democrats have been forced to confront questions about the administration's response to the disease, missing opportunities to discuss topics they'd rather focus on, such as the improving economy and women's issues.
In North Carolina, Senator Kay Hagan has worked to focus on issues close to home, such as state education funding—at times her campaign speech sounds as if she's running for state senator. Her opponent, Thom Tillis, has been running a campaign more like a small-scale presidential run, emphasizing national issues and linking Hagan to President Barack Obama. He jumped on the Ebola threat in a debate earlier this month, saying the current handling is "another failure like the failure (of) ISIS, and a number of other policy issues where our safety and security is at risk."
Last Friday, 10 days after that debate, Hagan joined a small cadre of Democratic Senate candidates who support a travel ban from West Africa, a change from her previous position.  While that shift was still making headlines two days later, her critique of Tillis' education record was barely mentioned.
Nervous independents
In a close race, a candidate can't walk away from 40 percent of any voting bloc. That's the percentage of independents who question the government's ability to contain Ebola. While that's still a minority, the number is a little too big for comfort for Democrats facing competitive races, and they're finding little consolation in polling from competitive states. Look at New Hampshire, where likely voters surveyed this past weekend said they don't trust the federal government to handle the Ebola crisis, by a 50 percent to 43 percent margin.  
Republicans are jumping on these concerns, hoping to underscore their argument that voters can't trust the Obama administration to handle a crisis.  Senator Marco Rubio of Florida introduced legislation Monday to impose a visa ban for nationals of West African countries infected with Ebola. And in Chicago, Senator Rand Paul of Kentucky said those nations should be quarantined.
Democrats vs. the White House
Some Democrats quietly say that the White House takes too long to jump into a political issue—and when it finally does so, it stumbles.  They seethed when Obama went from an August press conference about Islamic militants beheading an American journalist in Syria directly to his golf game in Martha's Vineyard. They cringed last month when Obama said that his policies were on the ballot this fall, providing immediate fodder for GOP ads.
Nor were they thrilled with the administration's slow response to Ebola, which didn't end with the president's selection of Ron Klain to oversee the effort.  They feared, correctly, that Klain would be pegged as a Washington insider.  On Monday, Georgia Republican David Perdue's campaign blasted out a statement attacking Democratic opponent Michelle Nunn for supporting Klain, who previously led her debate preparations, according to a leaked campaign memo.
"It is absurd that President Obama thinks that a partisan lobbyist with zero medical or health care experience should be the point man on the national response to the Ebola crisis," said Megan Whittemore, Perdue spokeswoman. "The fact that Michelle Nunn believes that Washington insider and lobbyist Ron Klain is an appropriate choice speaks to her lack of judgment and her deference, once again, to President Obama's poor decisions."
Obama, Obama, Obama.
When Democrats support a travel ban on flights to and from West Africa, it's a direct rebuke to the administration and its public health experts who say such a prohibition would only worsen the outbreak. But that hasn't stopped incumbents such as Hagan, Mark Udall of Colorado, and Mark Pryor of Arkansas, nor Michelle Nunn, the Democratic Senate candidate in Georgia.
Their positioning is the latest step in a Democratic effort to declare some independence from their unpopular president. While they're happy to have Obama raise money for the Democratic Senate Campaign Committee, few candidates in competitive races have appeared at his side. (Some have even purposely stayed in Washington, when he's gone to their home state.) They're also arguing that the November 4 election is not about the next two years (read: the end of the Obama administration) but the six-year Senate term.
"You're not electing a senator for the next two years – you're electing a senator for the rest of this decade, until 2020," Hillary Clinton told Democrats last Wednesday in Louisville, as she campaigned for Senate candidate Alison Lundergan Grimes. "So please ask yourselves, which of these candidates do you really trust to represent you for the next six years?"
Mary Landrieu, the Democratic senator from Louisiana, has not called for a ban, though not for lack of taunting by the Republican Party of Louisiana. On Friday, the organization released a statement calling for Landrieu to support a ban, but really calling for the election of Republican challenger Bill Cassidy, a physician.
"Senator Landrieu continues to pass the buck on important issues of national security, and the time for her to step up and take a bold stand is long past," said Jason Doré, the group's executive director, in the statement. "Dr. Cassidy is showing the kind of leadership Louisiana needs on this and other critical issues, and it is exactly this kind of leadership that has been missing from Senator Landrieu for too long."
---
Greg Giroux, Annie Linskey and Alison Elkin contributed to this report.
Before it's here, it's on the Bloomberg Terminal.
LEARN MORE