First Ladies Remember Oscar de la Renta
The Clintons and Laura Bush mark his passing.
by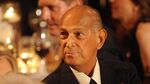 Oscar de la Renta, whose designs have been favored by first ladies since the Kennedy administration, died Monday. 
Laura Bush and the Clinton family gave statements remembering the designer's work and his demeanor.
"We will always be grateful to Oscar for the love he showed us, and for sharing his talent on some of the most important occasions of our lives," the Clintons said.
Bush said that she and her daughters "have many fond memories of visits with Oscar, who designed our favorite clothes, including Jenna's wedding dress."


The designer also worked with Nancy Reagan, as well as Cindy McCain, the wife of 2008 Republican presidential nominee John McCain, and Huma Abedin, a Clinton aide, according to Politico. 

As to the designer's relationship to current first lady Michelle Obama, our Bloomberg News colleague David Henry reported:
First lady Michelle Obama had a frosty relationship with de la Renta, snubbing his designs for years after he publicly criticized her choice of clothing for a meeting with Queen Elizabeth II in 2009 and at a state dinner with Chinese officials two years later. This month, she appeared in the designer's clothing for the first time, wearing a de la Renta dress at a White House cocktail party.
Vogue's Hamish Bowles has credited the designer with injecting some sophistication into Clinton's look, describing the potential 2016 presidential candidate's gown at her husband's first inauguration as a "conventional prom dress" and saying the second one, designed by de la Renta, was an improvement.
"Hillary Clinton was more difficult," de la Renta said in a 2002 interview with The New York Times. "Remember, she was coming from Arkansas. Mrs. Reagan was a movie star, and she knew how to dress, but Mrs. Clinton ... she's very prudish. She has lovely shoulders and a very nice décolleté. Before I die, I'm going to get her in a strapless dress."

Before it's here, it's on the Bloomberg Terminal.
LEARN MORE