Senator Criticizes Fellow Lawmakers' Ebola 'Scare Tactics'
Kathleen Hunter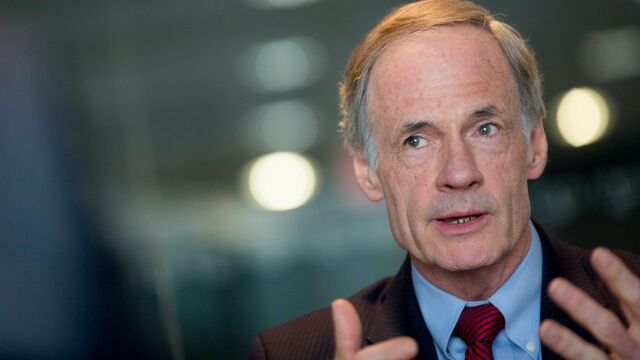 The chairman of the Senate Homeland Security Committee criticized some fellow members of Congress for using political "scare tactics" over the spread of the deadly Ebola virus to the U.S.
"Some of my colleagues have been shameful in the way, frankly, they've manipulated this for purposes that I think we can all understand," Senator Tom Carper, a Delaware Democrat, said at a Bloomberg News event today in New York. "The way people have just been playing the scare tactics is just, I think, shameful."
Carper said his panel will hold a hearing, tentatively scheduled for Nov. 19, to examine the U.S. response to the crisis. He said he has been encouraged by the latest news on attempts to curb the spread of the disease.
Ebola has infected more than 9,000 people, killing more than half, in the West African countries of Sierra Leone, Liberia and Guinea, according to the World Health Organization.
The Department of Homeland Security will require airline passengers originating from those three countries to enter the U.S. through five airports with Ebola-screening procedures, according to a statement today from the agency.
Those airports are New York's John F. Kennedy International Airport; Newark Liberty International Airport in New Jersey; Dulles International Airport near Washington, D.C.; Chicago O'Hare International Airport; and Hartsfield-Jackson Atlanta International Airport. About 94 percent of fliers from the affected areas go through those airports.
Added 'Protection'
Senator Charles Schumer, a New York Democrat, praised the new policy, which he said would create "an added layer of protection against Ebola entering our country."
"The Department of Homeland Security's policy to funnel all passengers arriving from Ebola hot spots to one of these five equipped airports is a good and effective step towards tightening the net and further protecting our citizens," Schumer said in a statement.
Carper said he was pleased to learn that no more of the 43 people in Dallas who had contact with Thomas Eric Duncan, a Liberian man who died of Ebola at a Dallas hospital on Oct. 8, had become ill by the end of a 21-day monitoring period. He also cited the WHO's declaration that Nigeria is free of the disease after 42 days without a new case.
'Encouraging' News
"The news is encouraging as we go along," Carper said.
Two nurses who were part of Duncan's medical team, Nina Pham and Amber Vinson, are the only people confirmed to have contracted the virus in the U.S. They are being treated at federal facilities in suburban Washington and Atlanta.
The U.S. Centers for Disease Control and Prevention yesterday recommended greater safety protections for caregivers treating Ebola patients. They should have no exposed skin while caring for patients, must undergo rigorous training and must be supervised by a qualified monitor, according to the CDC.
With the benefit of hindsight, more effort should have been put into developing vaccines and drug treatments for Ebola, Carper said.
"There's a lot of energy behind it now," he said.
Members of a House panel last week questioned CDC director Tom Frieden about the agency's response to domestic reports of the disease. Lawmakers, particularly Republicans, have criticized the CDC, with several calling for Frieden's resignation.
Carper said today that he had confidence in Frieden, adding that the CDC "for the most part" has "shown pretty good footwork" on Ebola.
Before it's here, it's on the Bloomberg Terminal.
LEARN MORE