Getting Ready for Hillary Costs About $1,000 Per Hour
The super-PAC is building a list of supporters that is already hovering around 3 million.
by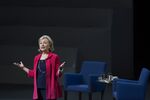 Hillary Clinton's friendly super-PAC is spending roughly $23,000 a day – nearly as much as it's bringing in – as it builds a database of supporters and donors for a possible 2016 Democratic presidential bid.
Viewed another way: Getting Ready for Hillary costs her supporters about $2 million per quarter, covering expenses for everything from political consultants to voter databases to Des Moines hotel rooms, according to disclosure reports released October 15. 
"Rather than building up a large bankroll, we have sought to invest in engaging our supporters and building our list for the day that Hillary's decision comes," said Seth Bringman, the super-PAC's spokesman.
It costs money to raise money, and the group's biggest expenses include printing, postage and online advertising. Payroll and travel costs also continue to grow. Bringman said the super-PAC has about 35 full-time employees. "Given that her decision is looming, I wouldn't anticipate that we will staff up much more," he said.
Based in a Virginia suburb outside Washington, Ready for Hillary raised $2 million and spent about $2.1 million during the quarter that ended September 30.

By comparison, Senator Rand Paul's Rand PAC spent a fraction of that, about $598,000 while raising $480,363. Like the Clinton group, the Republican is using his PAC to stockpile supporters and favors for a potential White House bid.
Ready for Hillary's fundraising prowess has helped create what amounts to the most robust campaign infrastructure of any prospective 2016 candidate, whether Democrat or Republican. The group says it has connected with more than 3 million Clinton supporters, persuaded 900,000 people to sign a pledge to help her win if she runs and distributed 600,000 bumper stickers.  Contributions have arrived from more than 100,000 people in all 50 states, the District of Columbia, Puerto Rico and every U.S. territory.
Nicco Mele, who teaches classes on the Internet and politics at the Kennedy School of Government at Harvard University, has estimated that presidential candidates will probably need an online list of 1 million to 3 million people to be financially competitive.
To understand just how quickly the money can flow, look to mid-September, when Senator Tom Harkin's annual Steak Fry committee spent more than $50,000 for a private jet to shuttle Bill and Hillary Clinton into and out of Iowa.  Ready for Hillary also racked up some major bills.

The super-PAC paid for hotel rooms for virtually its entire staff as well as key activists, roughly 60 to 70 people in total, Bringman said. The weekend bill at the Des Moines Marriott? More than $27,000.
"We wanted to make as big a contribution as possible," Bringman said, adding that staff and volunteers helped shuttle Democrats to the steak fry and pitched in to build the set for the one-day event. Ready for Hillary also contributed $5,000 directly to the steak fry committee and paid the Iowa Democratic Party $20,000 for its database of participants in the 2008 Iowa caucuses, Bringman said, adding that the group will be making similar data acquisitions in other states with early 2016 nomination contests.
"We've done a lot of work in Iowa compiling our list of supporters there," he said. "We want to understand who our supporters are and how best to communicate with them."
More expenses, as reported to the Federal Election Commission:
Airlines 
Staff members went to Iowa and back, but that wasn't all of their travel.  During the third quarter the super-PAC spent $69,657 with three airlines – Delta, US Airways and United. Staff members routinely travel to train volunteers and coordinate fundraisers events, Bringman said. 
Stamps and snail mail
It may be a dot-com world, but Hillary's allies still spend plenty on postage stamps. Stamps.com was paid $38,280 during the quarter. An additional $5,164 went to the Postal Service. And Windward Strategies of Bethesda, Md. got more cash from the group than any other entity: $558,319 for "direct mail production," which Bringman said includes design, copy, printing and postage.
Networking
Ready for Hillary also set out to make friends, donating about $58,000 to candidates and state-level political parties, mostly in states with early nomination contests. Its biggest contribution during the quarter – $25,000 – was to Jack Hatch's campaign for Iowa governor. The Democrat trailed Republican Governor Terry Branstad in a recent Bloomberg Politics/Des Moines Register Iowa Poll, but he could provide a valuable network of political activists if Clinton decides to run. 
Before it's here, it's on the Bloomberg Terminal.
LEARN MORE