Burned on Immigration Reform, Latinos Start to Pull Away from Democrats
Latino voters will carry more influence in the 2016 presidential election than in the midterm elections.
by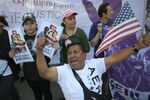 President Obama's decision to delay issuing executive orders on immigration reform until after the midterm elections may cost Democrats Latino support in November, a new poll shows.  
Latino voters still prefer Democrats to Republicans for Congress by a margin—59 percent to 25 percent, with 16 percent undecided—according to the Latino Decisions poll released Monday. Yet the 59 percent doesn't look as sturdy when it's broken down into the 34 percent of Latinos who say that they definitely will vote Democratic, and 25 percent who say they're "leaning" toward Democrats in the November 4 election. 
"This doesn't suggest that the Republicans are doing much better, but rather that there are a large number of Latinos in the middle" who are "not certain for the Democratic Party at this point," Matt Barreto, a political scientist and co-founder of the polling firm Latino Decisions, said during a telephone briefing Monday. Lower Latino participation in next month's election would hurt Democrats more than Republicans.
"While Republicans have solidified their negative brand with most Latino voters," you also "see some real softness" for Democrats, said Frank Sharry, the executive director of America's Voice, an advocacy group that supports revising immigration laws.
Latino voters view Obama and the Democratic Party less favorably on immigration policy than in Latino Decisions's June survey, conducted before Obama said that he wouldn't take executive action on the issue before the midterm elections. Obama's approval rating on immigration fell to 42 percent from 54 percent from June, while the Democrats' approval rating on the issue dropped to 37 percent from 49 percent, according to the survey of Latino voters.
Still, that's better than the 24 percent approval rating for Republicans, though. The Republican-led House has declined to bring up an overhaul of immigration laws that the Senate passed in 2013 with backing from all Democrats and 14 Republicans.
"None of the actors in this policy environment are getting good numbers," Barreto said.
Latino voters will be less influential in the November 4 election, a lower-turnout midterm, than they were in 2012, when their votes in states like Florida and Colorado. In states like Arkansas, Alaska, Iowa, Louisiana and New Hampshire, which are all hosting highly competitive Senate races, Latinos accounted for less than 7 percent of the statewide population as of the 2010 Census.
"The impact of Latino voters in determining which party controls the U.S. Senate may not be as large as might be expected given their growing electoral and demographic presence nationwide," the Pew Research Center said in a report last week.
Barreto looks at it a different way. He said that, in six Senate races and 12 gubernatorial races, the share of the electorate that consists of eligible Latino voters is greater than the difference between the two major-party nominees in polling.
"Even though there's been very little attention paid to this as a 'Latino election' in 2014, outside of places like Colorado or Florida, there are actually quite a large number of states this year where Latinos could potentially be decisive because the population is growing so dramatically," he said.
Even with poor approval rating among Latinos, Republicans could still increase their majority in the House and win control of the Senate in November thanks to favorable political maps, historical trends and Obama's poor approval rating.
But a better showing among Hispanics is an urgent priority for Republicans in 2016, when voter turnout will be higher and the electorate will be more nonwhite. In a generic 2016 presidential ballot, Latinos back the Democrat over the Republican by 55 percent to 20 percent, with 25 percent undecided.
"We've got a demographic issue that we need to address in the post-Obama area among African-Americans and among Latinos," Neil Newhouse, a Republican pollster who worked on Romney's campaign, said earlier this month. "And unless we address that, we're going to have a tough time winning the presidency."
Latino advocacy groups will be looking at Hillary Clinton's immigration platform if the former Secretary of State becomes the 2016 Democratic presidential nominee. Clinton supports an overhaul of immigration laws that includes a path to citizenship, though during the 2008 primaries she said she opposed issuing driver's licenses to undocumented immigrants. 
"I think the question coming out of this election will be, as we head to a 2016 map which is going to be much more favorable to Latino immigrants and Latino voters who care about immigration reform, is whether we're going to have good Hillary or bad Hillary or are we going to have good Democrats or bad Democrats?" Sharry said. "Are they going to be the Democrats who keep their promises and lean in to immigration reforms that benefit immigrants? Or are they going to be the bad Democrats that find a way to talk like Republicans and back off of promises and do as little as possible, for fear that there will be a backlash that they won't like?"
See the Latino Decisions poll here.
Before it's here, it's on the Bloomberg Terminal.
LEARN MORE