Obama Works to Boost Early Voting in Maryland, Illinois
Toluse Olorunnipa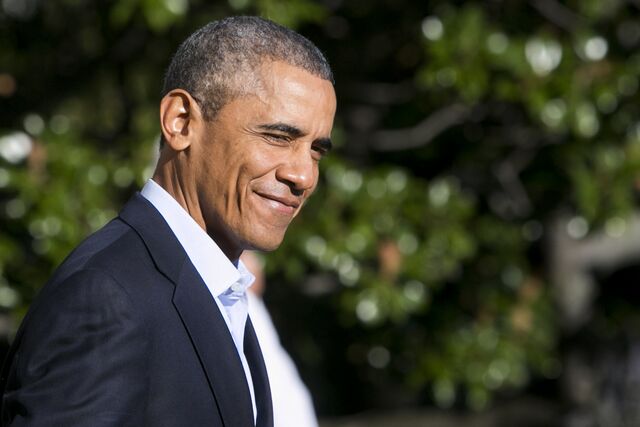 President Barack Obama cast his ballot this morning in Chicago as he worked to rally his party's voters to turn out for Illinois Governor Pat Quinn and other Democrats in the midterm elections that will decide control of the U.S. Senate.
"I love voting. Everybody in Illinois: early vote," he said at the community center that's his neighborhood polling place. "This is the most important office in a democracy, the office of citizen," he said.
Obama, who declined to say today how he voted, last night encouraged a crowd of supporters in Chicago to take advantage of early voting, which began today in Illinois. His remarks echoed comments he made earlier in the day at a rally in Maryland, his first of the campaign season.
"Republicans have been trying to make it harder for folks to vote," Obama told the crowd during his appearance with Quinn at Chicago State University, a predominantly black college on the South Side of Chicago. "But the truth of the matter is is, so often we disempower ourselves."
Both Obama and first lady Michelle Obama have emphasized early voting during recent campaign events. They have focused on predominantly black communities, which have supported Obama in record numbers during presidential elections but turned out in lower numbers during midterm elections.
As the Nov. 4 election nears, Obama's schedule for the week remains open. He has been dealing with the Ebola crisis and military action against the Islamic State militant group in Syria while juggling campaign activities.
Yesterday he headlined a late-afternoon event at a Maryland high school with Anthony Brown, the state's Democratic candidate for governor then flew to Chicago for the rally on behalf of incumbent Quinn.
Governors' Races
In a blisteringly partisan speech in Maryland, Obama attacked Republicans as obstructionists who don't have a vision other than repeatedly cutting taxes for the wealthy.
Republicans "want to get you cynical, so you don't think you can make a difference," Obama said. "So you won't get involved, so you won't organize, so you won't go out and vote."
"The only plan they've got is to try to make you so afraid, so discouraged, to remind you everything that's not working right," Obama said. "That's their plan, to make people feel like government can't work."
A few hundred in the crowd of 8,000 in Maryland were seen trickling to the exits early while the president spoke.
Obama States
Brown, the state's lieutenant governor who is vying to become its first black governor, is leading Republican candidate Larry Hogan in polls. Quinn is in a close race with Republican candidate Bruce Rauner, a venture capitalist who has donated more than $13 million to his campaign.
In 2012, Obama won 62 percent of the vote in Maryland and 57 percent in his adopted home state of Illinois.
"I can't think of a better way to fire up our team and highlight the importance of early voting than a major 'Get Out the Vote' rally with President Obama," Brown said in an e-mail to supporters.
Obama will campaign with candidates for governor in at least six states prior to Nov. 4 elections, according to a White House official familiar with the president's plans. He's largely stayed away from campaign appearances in politically competitive states where Democratic Senate candidates are running. Republicans need a net gain of six seats on Nov. 4 to have a majority in the chamber.
Competitive Races
Obama's appearances with gubernatorial candidates in Democratic-led states contrasts with his absence from the campaign trail in the Senate battle.
"It's helpful for Quinn to associate with Obama, particularly in the African-American community," said Kent Redfield, a professor emeritus of political science at the University of Illinois at Springfield. "In terms of highly competitive races across the country, this is one of the few where the president can come into Chicago and it's a plus for the Democratic candidate."
In the run-up to Election Day, Obama is also scheduled to appear with Democrats running for governor in Wisconsin, Pennsylvania, Maine and Michigan, all states Obama won, according to the administration official, who asked for anonymity because the plans haven't been publicly released.
Before it's here, it's on the Bloomberg Terminal.
LEARN MORE