Rob Portman Is Confident, Kind Of
Rob Portman predicts will Republicans win the Senate, but it won't be easy.
by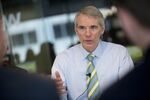 For a political insider, Senator Rob Portman of Ohio is enjoying an unusual moment: A job that gets easier as Election Day gets closer. As finance chair of the National Republican Senatorial Campaign committee, Portman is charged with raising the money to help the GOP win back the majority in the chamber. He's well equipped for the job, with a Washington resume that includes work as a White House budget chief, U.S. trade representative, and congressman from Cincinnati. Oh, and he also likes biking. 
He's also experienced a bit of political fortune. With Republican chances on the rise, donors are eagerly opening their wallets. Last month, the committee collected a record $15.5 million, more than double the $6 million raised a month earlier.
The achievement is particularly significant for Portman, who is weighing his own electoral standing – for president. His battleground-state background, experience in government, and support for same-sex marriage could provide an alternative for voters seeking a moderate contender, particularly if former Florida Governor Jeb Bush decides not to run. 
Bloomberg Politics talked to Portman about his presidential aspirations and his election predictions. A (slightly condensed) transcript of the conversation follows.
Q: Let's start with a prediction. Will Republicans win the Senate?
A: At the end of the day, we will. I think it will be a narrow victory and I think it will be an extraordinary accomplishment. It's going to be close in a number of these states.
Q: Walk me through it. How do Republicans get there?
A: There are probably five states that are on the edge right now that could go either way: Iowa, North Carolina, Georgia, New Hampshire, Colorado – sometimes Alaska. I actually probably would take [Colorado and Alaska] off the list right now because we are doing better in both those states. Oh, and Kansas. It's going on in our direction now and that's good. I think Pat [Roberts] will win. He's a good senator and it's a red state, but I think polling would indicate it's a very close race.
Q: I noticed you didn't mention South Dakota, which recently shifted from a Republican stronghold to a competitive contest. Or Georgia, a traditionally Republican state where Democrats now see an opening.
A: We have changed the dynamic on the ground in South Dakota and it's moving in our direction. And on Georgia, I always thought Georgia was going to be close. It's a state that some people have incorrectly indicated as deep-red, classic Southern state. I always thought it would be competitive. We had a tough primary. I still think it will go our way. 
Q: There could be runoffs in Louisiana and Georgia. Independent candidates refuse to say which party they'll caucus with.  When will we actually know who's running the Senate?
A: I hope we'll know Election Night, because we're ready to go work. It's possible it could be after the [Dec. 6] runoff in Louisiana which most people think is likely with the number of candidates. I think we'll win that runoff, by the way, and then there could be one up in Georgia. It's unlikely but not impossible. It's hard to predict.
Q: You've talked about a run for president. When will you decide and what are the considerations?
A: I'm going to sit down with folks I respect and talk to them about it after the election and see what the lay of the land is.
I'll be interested to hear what other candidates are saying. I'm convinced unless we have a change of leadership, we are not going to be able to get back on our feet. But I also worry about Republicans winning a national election unless we can broaden our base of support, so that's what I'll be weighing.
Q: You're also one of a few Republican politicians who support gay marriage, and may be the only Republican presidential possibility to back it. Is this as a potential liability for you, or do you think the nation will have come around on this question? 
A: It's not a top issue for most people. It certainly is for some, but not for most.  And I think the top issue will be the economy and jobs and how to bring them back. That's what I've focused on for my career and I will continue to focus on that. I'm not suggesting the same-sex marriage issue won't be important in some of the primary states, but the vast majority of voters will be looking at other issues.
Before it's here, it's on the Bloomberg Terminal.
LEARN MORE