Iowans, Divided About Almost Everything (Except Gay Marriage)
Voters who participated in the Iowa Poll speak out.
by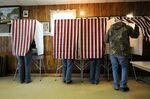 At the start of this week, the Bloomberg Politics/Des Moines Register Iowa Poll found Iowa's U.S. Senate race to be all tied up, with a negligible one-point lead for Republican Joni Ernst. At the end of the week, Public Policy Polling found that Democrat Bruce Braley had crawled toward the same basically insignificant advantage, one point over Ernst.
A few facts are undeniable. Braley is running ahead of Barack Obama's approval rating, but struggling badly with the independents who elected the president twice. Ernst, who's generally received much sunnier media coverage than Braley, has been held to earth by the negative campaigns of local Democrats and outside groups – campaigns enabled by her reliable right-wing record.
"If you're watching the Braley-Ernst debates, you can see we're very divided," said Katherine Weeks-Toops, a 44-year old Democratic voter who participated in the poll and permitted reporters to call her with follow-up questions. "They're about as far extreme as you can go."
It was not supposed to be that way – not for Democrats, at least, who hoped Braley could run as a populist against a fringe candidate. In my conversations, Iowans just diverged completely on what populism was, or what shape the country and the state were in. Republicans argued that America was in decline, losing to "China and India," as one of them put it. Democrats, who expected GOP Governor Terry Branstad to win a sixth term, felt that the country was moving along, but their state wasn't.
"Iowa's in decline," said Gregory Wells, a 47-year old Democrat. "We're not spending enough on infrastructure or education. We have lots of money any time a big corporation wants to move into the city – an enormous amount of money. But we can't get roads repaired. We can't get schools repaired to the point they need to be."
That was one generally liberal voter's worry about government incompetence. There was more of that. Weeks-Toops, for example, said she was voting in part to oppose No Child Left Behind. "Every school student is supposed to be proficient at 100 percent with those standards," she said, "and mathematically it's impossible."
But Weeks-Toops, and other Democrats, were critical of Republicans who undermined the Affordable Care Act. The main difference between partisans was not whether they doubted that the government could get anything done, but the degree to which it failed.
"Whether you're liberal or conservative, Obama's not doing what he promised," said Lisa Stuhler, 54, after casting an early ballot for Ernst. "And we're not safe. They can't even secure the White House, and they want to fight ISIS? The prices going up, let alone, with the shootings, high school shootings, all the crime rate, strange things happening in this country."
The only real agreement I found was on social issues. Agreement might be too strong a word – call it a truce. Conservatives, most of whom had opposed the state's 2009 legalization of gay marriage, were no longer as concerned with the morality of that trend as with the social acceptance of abortion.
"I have friends who are homosexual," Stuhler said. "If they're good enough for Jesus, they're good enough for me. I'm not going to stand on a soap box about that type of thing."
Democrats, even those who worried about the trends in the state, were happy that some of the culture war battles had petered out. "Governor Branstad hasn't really done anything that the far right had on its agenda," said Wells. "There's more tolerance now, generally. If people want polygamy, that's fine with me."
Before it's here, it's on the Bloomberg Terminal.
LEARN MORE