Steyer Group: Republicans = Cavemen
The environmentalist outside spending group is deploying shame tactics against Republicans.
by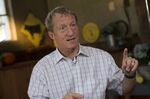 Republicans throughout this election season have sought to tactfully avoid getting too deep into the debate over climate change with one sentence: I'm not a scientist. 

Now NextGen Climate, the outside spending group funded primarily by billionaire Tom Steyer, is launching a series of television ads in Florida and Washington equating lawmakers who use the line to cavemen. (The ad going after Florida Governor Rick Scott is below.) 


The debate over the science behind climate change is one that has raged on Capitol Hill for years and lawmakers have shown no signs of reaching an agreement on the issue at any point soon. In fact, moves by the Environmental Protection Agency to use new rules tailored to each state to cut down on power plant emissions have surfaced throughout the campaign season as an example cited by some candidates of government overreach on the issue. 

Yet Steyer's group, which has been spending in key races throughout the country in support of lawmakers that back bills and regulations to address the issue, says the science is more than settled and those who disagree are, according to a release from the group, operating with a "troglodyte agenda." The ads come at the end of the group's "science denier week," where it has attacked lawmakers on the other side of the debate. 

The ads are scheduled to run Sunday during the political talk shows. No word yet if the Geico Cavemen are on board. 
Before it's here, it's on the Bloomberg Terminal.
LEARN MORE