Whatever Happened to Immigration as a Campaign Issue?
So far in the midterm elections, immigration reform has largely taken a backseat to other issues.
by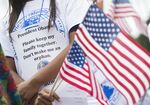 For most of the 2014 midterm campaign, immigration reform has been the issue that wasn't there. While perennial topics like birth control, abortion, terrorism, and the economy have once again been front and center this year, the question of what to do about the country's estimated 11.7 million undocumented workers has been much less so.
In part, the issue has been taken off the table by President Barack Obama, who decided to wait until after the November election to issue executive orders aimed at addressing the legal status of immigrants presently in the country. As a result, many candidates and the media covering them have, by and large, given it a rest. 
"The fact, or I guess the concern, is that had the president moved forward with his announcement prior to Election Day, you would have seen Republican candidates do more to make the immigration issue central to their campaign," White House spokesman Josh Earnest said in September, shortly after Obama disappointed immigration activists frustrated by years of inaction. 
House Speaker John Boehner also pounced, slamming Obama's delay as "raw politics." The truth is, however, that ever since the Republican National Committee issued its post mortem on the 2014 presidential election and recommended that the party "embrace and champion comprehensive immigration reform," the GOP has lost much of its unity and swagger. 
In fact, other than in a few isolated races, it has been Obama himself who kept the issue alive. 
"I've said before that if Congress failed to live up to its responsibilities to solve this problem, I would act to fix as much of our immigration system as I can on my own, and I meant what I said. So this is not a question of if, but when," Obama declared in an October 2 speech to the Congressional Hispanic Caucus. 
New Ads
On Wednesday, with little more than three weeks remaining before election day, NumbersUSA, a group opposed to immigration reform, began running ads in 10 states, including Alaska, Arkansas, Georgia, Iowa, Kansas Kentucky, New Hampshire and North Carolina, where tight races will help decide which party controls the Senate.
Given the relative silence on the immigration question, the spot feels almost like a throwback to elections past, with its insistence that immigrants currently in the country illegally not be provided a pathway to citizenship or a job. 
"Finally, the economy is starting to crank out new jobs. But who should get those jobs?" the narrator asks in the ad.
 Two states where immigration remains a front-and-center campaign issue in Senate races are Arkansas and Kentucky. In the former, a familiar paradigm is playing out in which the GOP candidate, Tom Cotton, has lashed out at his Democratic rival, Senator Mark Pryor, for being in favor of what Republicans term "amnesty." 
"Liberals in Washington want to let illegal immigrants get Social Security for work they did with forged identities, and when they needed one vote, they got it from Sen. Mark Pryor," the narrator of a Cotton ad says. "On illegal immigration, Mark Pryor never takes your side."
In the Kentucky Senate race, however, both Republican Mitch McConnell and his Democratic challenger Alison Lundergan Grimes have traded barbs on which politician has taken the harder line on immigration reform, with Grimes describing undocumented workers as "illegal immigrants," a term eschewed by many Democrats. 
One big thing that's changed since the Republican candidates for president stood on stage in 2011 and, with the exception of Jon Huntsman, took a stern law-and-order approach to dealing with illegal immigrants is that the national unemployment rate has plummeted from close to ten percent to just six percent now. Anther is the perception of the cross-border threat. For Republicans like New Hampshire Senate Candidate Scott Brown, the main problem with our porous border with Mexico seems to have shifted from that of American job stealers to Islamic State terrorists and Ebola infected immigrants. 
Ultimately, however, the real fighting over immigration reform is not likely to really erupt until the president unveils his executive-branch fixes. By then, the fate of the Senate will have been decided. 
Before it's here, it's on the Bloomberg Terminal.
LEARN MORE