The Kingmaker
An independent from Maine has become the patron saint of spoilers.
by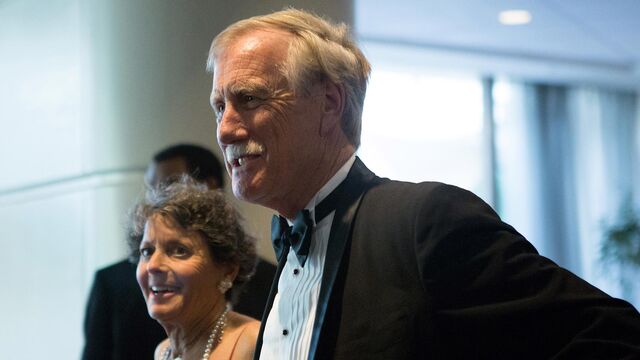 Senator Angus King is everywhere and nowhere on the campaign trail. While the Maine independent was meeting with top Pakistani officials in Islamabad on a trip ending this week, he was becoming a bit of a sensation back at home.
Independent Senate candidates in South Dakota and Kansas are dropping his name, hoping to prove to voters that non-party candidates are not political unicorns. They've turned to King as a model for how they would act if elected, pointing to his two-year tenure as proof that independents can exist in the wilds of Congress.
Last week, independent Kansas Senate candidate Greg Orman recounted a phone call with King – the only sitting senator Orman said he'd spoken with.
"Angus called me and suggested to me that he loved what I was doing but he believed that I needed to continue to be authentic and that serving in the United States Senate as an independent was a wonderful thing to do," Orman said in Overland Park, Kan. "He said very specifically that he would be excited about a time where he and I are in a position where neither party has a majority, that ultimately he believes that's one of the ways to break the gridlock."
Larry Pressler, the independent candidate running a surprisingly successful campaign in South Dakota, also name-dropped King, mentioning him in Monday's debate.
"Senator Angus King is a friend. I just met him through other senators. It was just a coincidental meeting with him. He said if he were coming back, he would keep with his practice of saving [the news] of what caucus he would go with until after the election," he said in Sioux Falls, S.D.
Back from traveling in Pakistan, India, Afghanistan and Qatar along with Senator Tim Kaine of Virginia, King discussed his unusual campaign role with Bloomberg Television's Peter Cook in an interview to be broadcast Friday.

"It's not like I'm out, trying to organize a third party or something or are either of those guys,'' he said. "It's a reflection, though, of the public frustration with the two parties and with the idea that these are the only choices we have."
A former Maine governor, King caucuses and mostly votes with the Democrats. National Journal's vote ratings say he's the 43rd most liberal Senator, ranking him ahead of every Republican and 11 other Democrats.
He's left open the possibility of flipping sides, if Republicans take control of the chamber – a statement he later seemed to backtrack a bit on.
"I'll have some discussions," King told Bloomberg Television. "Of course, there are two other independents that might be coming here, possibly from Kansas and South Dakota. And if that's the case, the three of us will undoubtedly talk and see if we can find common ground." 
Neither Pressler nor Orman have said which party they will choose to caucus with, if elected. But both say they plan to follow the King model of Senate leadership: Auctioning your loyalties to the highest bidder. Orman has said he'll caucus with whichever party has the majority control. And Pressler plans to hold a bidding process for his vote.
"I'm taking Senator Angus King's advice – I'm going to wait till I get there, where I can get an agreement to have certain roll call votes. That's the caucus I will join," Pressler said Monday in an interview on Bloomberg Politics' "With All Due Respect."
Before it's here, it's on the Bloomberg Terminal.
LEARN MORE