The 5 Worst Questions from the House Ebola Hearing
Should there be a travel ban for West African dogs?
by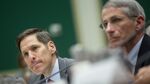 Congressional hearings are a good opportunity for politicians to show that they won't tolerate incompetence.  They're also opportunities for partisan lawmakers to embarrass themselves.
That was proved again Thursday, when the House Committee on Energy and Commerce's subcommittee on Oversight and Investigations grilled Centers for Disease Control Director Tom Frieden and others over the Ebola crisis.  
For Democrats, they had the chance to refer to a disproven theory that Republicans and their budget cuts are the reason that we don't have an Ebola vaccine. For Republicans, that meant attempting to tie the Ebola outbreak to border control, and asking the same questions about travel bans (for people and dogs) for 2 1/2 hours. 
As the testimony wore, it was punctuated, again and again, by five incredibly bad questions.  
1. Did low funding cause the Ebola crisis?
Without asking this explicitly, Democrats on the committee alluded to attacks claiming that Republican funding cuts are the reason we're not prepared for Ebola.
In his opening remarks, Representative Harry Waxman, a Democrat from California, argued that this situation should serve as a "wake up call" on health care funding. "In the past decade, the ability to fund research and public health programs has declined here in the United States," Waxman said, referring to drops in the CDC's budget. "All of these were also subject to the sequestration," he said, "and those who allowed the sequestration to happen by closing the government have to answer to the American people as well."  
The Washington Post has already debunked this theory, but that didn't stop Waxman and Representative Diana DeGette, a Democrat from Colorado, from bringing it up. 
2. Would it help if we secured the border?
At one point, while answering a question about travel bans, Frieden said, "borders can be porous, especially in this part of the world," referring to West Africa. Representative Marsha Blackburn seized on that during her questioning session and asked if we need to worry about "having an unsecure southern and northern border." Frieden replied, "I was referring to the border of the three countries in Africa."
Blackburn, a Republican from Tennessee, moved on to John Wagner of the Border Patrol's Office of Field Operations.  She asked whether "it would help you all if we secured the southern border and eliminated illegal entry?"
Wagner didn't bite. "Well, travel is coming across the southern border like the northern border," Wagner said. "We're going to query their information in our databases ... how they arrived in the country there —"
Blackburn interrupted to say that a yes or no answer would have been sufficient.
3. Why isn't there a travel ban for people?
Thursday's hearing was a master class in repetitive questioning, even when you already know what the answer will be. Nearly every committee member asked Frieden why a travel ban from West Africa couldn't be imposed;  we can't have a travel ban and then, after being told why it's a bad idea, made sure to state their support for it.
Representative Fred Upton, the Michigan Republican who chairs the committee, stopped Frieden in the middle of his argument, said his time was up, then continued talking. "I just don't understand. If we have a system in place ... that we can't look at one's travel history and say 'No, you're not coming here,'" Upton said.
An hour later, Representative Renee Ellmers said "there's no question I believe travel restrictions need to be put in place." In fact, after hearing the testimony of officials opposed to a travel ban, the North Carolina Republican was only further convinced. "And now, after having this subcommittee hearing, I believe even more strongly that we need [travel restrictions]," she said.
Representative Billy Long, a Missouri Republican, suggested that the testimony might not matter.  "I predict you're gonna put on, or the president's gonna put on travel restrictions," Long said. "I don't know if it's gonna be today or tomorrow or two weeks or a month from now, but I think they're coming, and I think sooner rather than later." 
4. Why isn't there a travel ban for dogs?

Representative Morgan Griffith wanted to know if humans can catch Ebola from dogs, and Frieden said there were no known incidents. But still, the Virginia Republican wanted to know if we could stem the flow of West African dogs traveling into America.
"Don't you think we ought to at least restrict travel of dogs?" he asked.
"Um," Frieden replied. "We'll follow up in terms of what's possible." 
5. How many flights fly to the U.S. from Europe?
Representative Cory Gardner, the Colorado Republican who's in a close race for U.S. Senate, was very concerned with flights — flights into West Africa, flights out of West Africa, flights from Europe, etc. Wagner, who fielded most of these questions, started losing his patience. 
"There are no commercial flights coming into the United States from those three areas," Wagner said.
"And what about Europe?" Garnder asked.
"There's hundreds of flights a day coming from Europe," Wagner said, referring to flights from Europe to the United States based on his tone. 
"So are people traveling from West Africa to Europe to here?" Gardner asked.
"That's generally how they would get here," Wagner replied. 
Before it's here, it's on the Bloomberg Terminal.
LEARN MORE