Joni Ernst Wants Federal Amendment that Would End Legal Abortion
The GOP candidate for Senate said she would support a personhood amendment to the U.S. Constitution.
by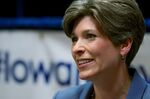 Republican Senate candidate Joni Ernst has found the federal regulation that she could support: one that would effectively end legal abortion nationwide. In an interview Wednesday with the Sioux City Journal, Ernst said she would support a federal personhood amendment to the Constitution that would gives legal protections to fetuses after the moment of conception. 
"I do believe in protecting life and I do believe most Iowans do believe in protecting life, and so I will continue to stand by that," Ernst said. "I am a pro-life candidate, and this has been shaped by my religious beliefs over the years so I support that."
As an Iowa state senator, Ernst voted for a proposed personhood amendment to the state's constitution, yet on a host of other issues the Republican expressed a disdain for federal meddling. 
Questioned on her view that the Environmental Protection Agency should be abolished, Ernst replied that "Iowans know best how to manage our natural resources within the state."
Similarly, when pressed on her belief that the Department of Education should likewise be shuttered and its duties delegated to individual states,  Ernst said,  "I believe we can do a better job of that at the state level than we can again with a one-size-fits-all approach from the federal government."
Ernst acknowledged that passage of a federal personhood amendment remains unlikely. 
"If you look at any sort of amendment at the federal level, amendments come together through consensus and, honestly, we don't have a consensus," Ernst said. "It would take two-thirds of the House, two-thirds of the Seante to even pass a proposed amendment and the it would have to be ratified by three-quarters of our states' legislatures. We don't have that consensus at the federal level."
The recent Bloomberg Politics/Des Moines Register poll found that Ernst's Democratic challenger, Bruce Braley, leads among likely female voters,  53 percent to 39 percent. Ernst, however is leading Braley by a near mirror image, 54 percent to 38 percent among men. 
Braley has used the personhood issue in ads during the campaign, and Ernst's latest comments could fuel another round. 
Before it's here, it's on the Bloomberg Terminal.
LEARN MORE