Hollywood McCain Is Ready For Hillary Clinton
Actress Sandy Bainum gives to Ready For Hillary as Republican Ben Carson draws more quarterly cash for the 2016 draft.
by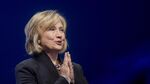 Hillary Clinton just got a vote of support from Cindy McCain — the fictional version as played in a movie recounting the 2008 presidential campaign.
"Game Change" actress Sandy Bainum wrote a $25,000 check to the Ready for Hillary PAC, one of the 38,000 donors who are financing the group that is laying the foundation for Clinton to run for president in 2016. Others include ESPN executive Marie Donoghue, who cut a check for $25,000; investment banker Roger Altman, who gave $20,000; and former diplomat Stuart Eizenstat, who donated $1,000. 
The fundraising factoids started rolling in Wednesday as political committees large and small filed disclosure reports to the Federal Election Commission that were due at midnight. By far, the most watched group is Ready For Hillary. It's organized volunteers to cheer for the potential candidate at multiple public events from Iowa to Kentucky and has a bus with "Ready for Hillary" emblazoned on the side.  
But it's not the best-funded for the 2014 third quarter. A group trying to convince retired neurosurgeon Ben Carson, a Republican, to run for president raised $3.3 million from July through September — the most of any contender from either party. 
Ready for Hillary collected $2 million. That's a slowdown in both cash flow and donors from the group's last quarter, when it collected $2.5 million from 43,000 people. The group has a self-imposed cap of $25,000. Ninety-eight percent of the checks were for amounts less than $100, according to spokesman Seth Bringman, which means the super-PAC can continue to tap those supporters in coming fundraising pitches.
It's early to be looking at 2016 cash, though how prospective candidates and groups raise and spend money can be telling. Former Arkansas Governor Mike Huckabee, for example, spread his cash around to Republican candidates, while Rick Santorum, the former Pennsylvania senator, hasn't done much at all. 
Here's a look at some of the groups likely to be active as 2016 presidential season approaches.
* America Rising: Republicans are far from sorting out their field, but they do have an opposition research team digging up nuggets that Democrats would prefer stay buried. The group's super-PAC raised $190,000 this quarter — mostly from a $100,000 contribution from Restore Our Future, the super-PAC that supported Republican Mitt Romney's presidential bid in 2012. 
* Martin O'Malley: Democrat O'Malley, Maryland's soon to be ex-governor, raised about $710,000 during the quarter when the receipts from his two political organizations are combined. Checks included $25,000 from Florida Crystals Corporation, a West Palm Beach sugar company that is closely held. He also rounded up a $10,000 gift from Richard Holland of Omaha, Neb. — one of Warren Buffett's early investors. Holland was in the front row at a recent state party fundraiser that O'Malley headlined in July and gushed about how much he enjoyed the governor's speech as he left the event.  
* Elizabeth Warren: Senator Warren of Massachusetts has disavowed the super-PAC that is pushing her to run for president in 2016 and it shows: The Ready For Warren PAC brought in $60,000 this quarter, and that includes in-kind donations. The biggest backer so far is Daniel Buk, a Washington political consultant who gave $25,000 to the effort. Warren's leadership committee, PAC for a Level Playing Field, raised $557,000 in the third quarter and donated $146,400 to Democratic candidates and committees where Senate elections could determine partisan control of the chamber after the Nov. 4 midterm elections.
* Ben Carson: The committee promoting Carson, a Republican doctor, to run for president raised an eye-popping $3.3 million in the third quarter — besting Ready for Hillary for a second quarter in a row. The retired neurosurgeon is a conservative darling taking top spots in polls, as the Bloomberg Politics/Des Moines Register Iowa Poll showed this week and colleague Phil Mattingly recently reported. Much of the cash came from donors who gave less than $200. The larger chunks of change included $10,000 from fellow doctor Robert G. Burlingame from Texas and $30,000 from Harry Bettis, an Idaho rancher. 
* Marco Rubio: Senator Marco Rubio raised almost $1.5 million for his Rubio Victory Committee. Notable contributions include $1,000 from the Ohio Gun Collectors Association, which is far afield from his Florida constituency but in a prime swing presidential state. 
* Mike Huckabee: The Huck-PAC saw nearly $1 million in contributions this quarter, from mostly small donors giving hundreds of dollars. The former Arkansas governor was fairly generous with his committee's cash, donating $1,000 to Republican Mike Rounds of South Dakota, who is locked in an unexpectedly tight Senate contest. Other top-tier Senate races where he contributed to the Republican contender include Kansas, Georgia, Alaska and North Carolina. 
* Rand Paul: Just under $500,000 in checks came in the door for Paul's Kentucky's Victory Fund. That includes $5,000 from Goldman Sachs' political action committee and $5,000 from Koch Industries. Straddling Wall Street and the Tea Party base is a strategic aim that could set Paul apart from what's shaping up to be a crowded primary field.
* Rick Perry: Texas Governor Perry's federal PAC raised $181,000 from donors including Shaun McCutcheon, an Alabama businessman who was on the winning side of a Supreme Court campaign-finance case earlier this year. RickPAC, which Perry formed in August, donated to 13 Iowa Republican candidates, including Joni Ernst, a state senator in a close race with Democratic Representative Bruce Braley for the U.S. Senate seat of retiring Democrat Tom Harkin. Iowa's caucuses traditionally kick off the presidential nominating contests.
* Rick Santorum: Santorum's federal committee pulled in about $15,000 this quarter — entirely from renting out his list of political supporters. 
Before it's here, it's on the Bloomberg Terminal.
LEARN MORE