Democrats Fret About the Native American Vote Being Blocked in South Dakota
The nation's newest, strangest Senate race is being fought on the margins.
by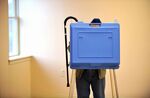 Twelve years ago, the last time there was a competitive race for Senator Tim Johnson's South Dakota seat, the incumbent Democrat won by just 524 votes. He was saved by strength in the state's "Indian country," in so many votes from reservations that National Review plastered Johnson on its cover with the claim that voter fraud made him an "invalid" senator.
South Dakota Democrats, who are increasingly optimistic about their chances of a bank shot Senate victory, are trying to outdo themselves. They expect perhaps 9 of every 10 reservation votes to go to Democrat Rick Weiland, and talk about their candidate netting perhaps 14,000 votes if the reservations turn out.
This is why they're furious about what's happened in Buffalo County. There are 900-odd registered voters to be had in the county, but on Tuesday the county declined to open satellite early voting. That scrambled the Democrats' plans on a week when a voter registration push is heading from rez to rez –  Weiland joined the push on Tuesday. But the county declined to use Help America Vote Act funds to pay for a satellite site.
"We're a very small county and very tight with our budget funds," said county auditor Elaine Wulff. "Absentee voting is still available, if people want to vote by mail. All they need to do is call me. If they're handicapped, all they need to do is call me."
Wulff told me that the commissioners had simply decided not to use the funds, and that in the past, the registration group Four Directions had sidestepped this problem by footing the bill.
"Yes," said Bret Healy, an (at the moment) irate consultant for Four Directions. "This time we went and got 'em federal money! Buffalo County's commissioners are the lone holdouts against native voting in South Dakota."
Can this really be an issue in South Dakota, in 2014? Well, yes. Healy pointed out that until last year Buffalo County was subject to pre-clearance by the Department of Justice. Native turnout surged in 2004 – not enough to elect Tom Daschle, but enough to keep it a priority for Democrats. "The fact that they did not open the satellite office on time means that everyone who could have been registered, then voted early, missed their shots," Healy said. "Those days are gone."
Before it's here, it's on the Bloomberg Terminal.
LEARN MORE