Loretta Lynch Eyed for Justice Department Promotion
Greg Farrell and Patricia Hurtado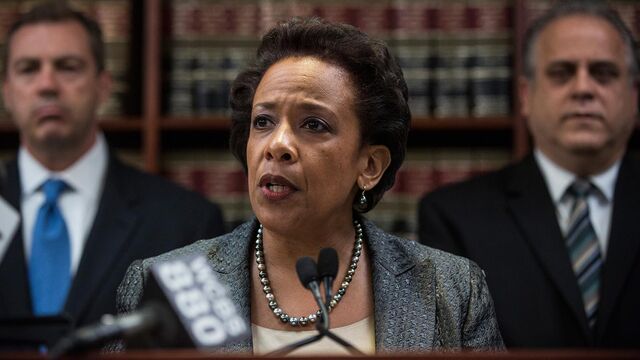 Loretta Lynch, the federal prosecutor from New York few people have heard of, may beat Preet Bharara to a bigger job in Washington.
Lynch's success convicting terrorists and white-collar criminals in her four years as the U.S. Attorney in Brooklyn has made her a leading candidate for the No. 2 spot at the Justice Department, following a decision by Deputy Attorney General James Cole to step down from the position, said people familiar with the matter.
Lynch is also a contender for Attorney General, the people added. It hasn't hurt that she hasn't sought the limelight, said former colleagues. Lynch's relative obscurity compares with the higher profile of Bharara, the Manhattan U.S. Attorney, whose magazine covers, convictions of hedge-fund traders and frequent press conferences have sometimes overshadowed his government bosses.
"She's not controversial, not at all a polarizing figure," said Jodi Avergun, a former federal prosecutor who's worked with Lynch. "She's very discreet" and "doesn't need to be talking to everybody about her decision-making. That would hold the Justice Department in good stead."
While Lynch is under consideration to replace the departing Eric Holder as attorney general, former White House Counsel Kathryn Ruemmler remains President Barack Obama's preferred choice to lead the Justice Department, said the people, who asked for anonymity because they're not authorized to talk about private discussions with government officials.
Lynch declined to comment on whether she's a candidate for one of the Justice Department's top two jobs. Spokesmen for Bharara and the White House declined to comment.
China Investigation
Lynch, 55, is in her second stint as U.S. Attorney for the Eastern District of New York, having already led the division that includes Brooklyn, Staten Island, Queens and Long Island from 1999 to 2001. During her current tenure, the office negotiated a $1.92 billion money-laundering settlement with HSBC Holdings Plc in 2012 and is investigating whether banks violated anti-bribery laws by hiring the children of government officials in China to win business.
Lynch's office was part of a federal investigation that resulted in Citigroup Inc.'s agreement in July to pay $7 billion in fines and consumer relief to resolve claims it misled investors about the quality of residential mortgage-backed bonds sold before the financial crisis. Her office was also involved in Bank of America Corp.'s $16.7 billion settlement to end federal and state probes into mortgage bond sales.
Haitian Immigrant
Born in Greensboro, North Carolina to a Baptist minister father and a librarian mother, Lynch graduated from Harvard College and Harvard Law School. She rose through the ranks at the Eastern District after joining as a staff attorney in 1990, eventually working on the team that prosecuted four New York City police officers for the torture and sexual assault of Abner Louima, a Haitian immigrant who had been arrested outside a Brooklyn night club.
"It was a pleasure being in an adversarial position with Loretta," said Marvyn Kornberg, a Queens criminal defense lawyer who represented one of the police officers in the Louima case. "She's been in the U.S. Attorney's office and seen all sides in different jobs. She knows what it's like to try a case. She knows the problems involved."
Tough Questioning
Other candidates under consideration for attorney general include U.S. Solicitor General Don Verrilli and Labor Secretary Tom Perez, said the people. Holder has said he will stay in the job until his replacement is confirmed by the U.S. Senate.
White House staff have told Obama that Ruemmler will face tough questioning in confirmation hearings about advice she provided during episodes of the presidency that have triggered Republican criticism, including lapses by the Secret Service, according to the people. Obama will wait until after the Nov. 4 midterm congressional elections to announce his pick to succeed Holder, a White House official said this week.
Milano Cookies
Avergun, the former Eastern District attorney, said Lynch has proven she's not only a smart prosecutor, but a creative one. In one of Lynch's first trials, she prosecuted a woman accused of smuggling more than $10,000 in cash to a local airport in a bag of Pepperidge Farm Milano cookies without disclosing it to U.S. authorities.
The defense lawyer said his client, accompanied by her child, forgot she was carrying the money, Avergun said. Lynch won the case by arguing that no one, especially a mother with a youngster, could have resisted opening a bag of cookies to calm a cranky child.
"Loretta walked the jurors through the airport with a bag of Milano cookies and a hungry child," said Avergun, who's now in private practice at Cadwalader, Wickersham & Taft LLP in Washington. "She honed in on the common elements of what everyone would do."
Before it's here, it's on the Bloomberg Terminal.
LEARN MORE