Texas Ebola Cases Prompt CDC to Adopt Stricter Guidelines
Makiko Kitamura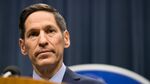 The spread of Ebola in a Texas hospital is exposing inadequate protection measures for nurses and doctors, spurring U.S. officials to adopt more stringent guidelines. The new advice still falls short of what the aid group with the most Ebola experience advises.
The U.S. Centers for Disease Control and Prevention yesterday disclosed measures designed to better protect health workers that more closely resemble protocol used by Doctors Without Borders on the frontlines of the outbreak in West Africa. Workers at Texas Health Presbyterian Hospital in Dallas must now wear hoods that cover their necks and wash their hands in a specific sequence when they remove protective gear, the CDC said in a statement.
The upgraded measures came in response to the infection of a nurse at the hospital, announced by the Texas Department of State Health Services three days ago. A second health-care worker there has tested positive for the virus, the department said today.
"The initial response of authorities has been to blame the nurse, that they made a mistake in the donning and doffing of equipment or made some mistake in the protocol," said Raina MacIntyre, a professor of infectious disease epidemiology at the University of New South Wales in Sydney. "But it's also possible that the guidelines aren't adequate."
Medical Tape
The second infection indicates hospital practices "did not protect" medical workers, Anthony Fauci, director of the National Institute of Allergy and Infectious Diseases, told CNN today. The hospital supplied safety suits with exposed necks, forcing nurses to use medical tape to cover their skin, and played down the need for more-protective face masks, a nurses union said.
The aid group Doctors Without Borders has always required gear that doesn't expose any area of skin as well as hand-washing in between removal of each item of protective equipment for workers dealing with Ebola patients.
Even with the recent revisions, the CDC guidelines aren't stringent enough, according to MacIntyre.
The updated advice suggests the second glove can be removed by hooking a bare finger under it, risking contact with a potentially contaminated surface, and doesn't mention protective boots at all, she said. Doctors Without Borders requires two pairs of gloves, while the CDC only mentions one.
'Serious Concern'
"An additional health-care worker testing positive for Ebola is a serious concern, and the CDC has already taken active steps to minimize the risk to health-care workers and the patient," the CDC said in a statement today.
The two health workers who caught Ebola were part of the team caring for Thomas Eric Duncan, who arrived from Liberia with the virus last month and died at the hospital Oct. 8.
The CDC said yesterday it has sent a second team of 16 experts to Dallas to train and assist the hospital in infection control. Team members have worked with Doctors Without Borders on safety protocols and trained others in Africa to follow them.
"This expertise is being directly shared with the hospital," the CDC said.
In addition, two infection-control nurses from Emory University hospital who have experience treating Ebola patients are joining the response at the Dallas hospital to provide peer-to-peer training and support.
'Ample Training'
Nurses and doctors need "ample training" in how to isolate and treat Ebola patients safely, including detailed training on how to take protective equipment off, said Robert Glatter, an emergency physician at Lenox Hill Hospital in New York. Trained observers are needed to help nurses and doctors do this, he said in an interview before the second health worker fell ill.
Holding frequent drills or simulations is crucial for hospitals to be prepared for treating an Ebola patient in case one walks in the door, Glatter said. Being able to treat an Ebola patient without spreading the disease "is direct proof of how well you are doing" in infection control, he said.
More than 8,900 people have been infected with Ebola in Liberia, Guinea and Sierra Leone. The number of new cases in the three West African nations may jump to between 5,000 and 10,000 a week by Dec. 1 as the deadly viral infection spreads, the World Health Organization said yesterday. The fatality rate in the current outbreak is about 70 percent. The virus spreads from contact with bodily fluids such as blood, vomit and feces.
Before it's here, it's on the Bloomberg Terminal.
LEARN MORE