Landrieu Rates Obama Job Performance 'Six to Seven' Out of 10
She and Republican Bill Cassidy debated Tuesday on the same stage for the first time.
by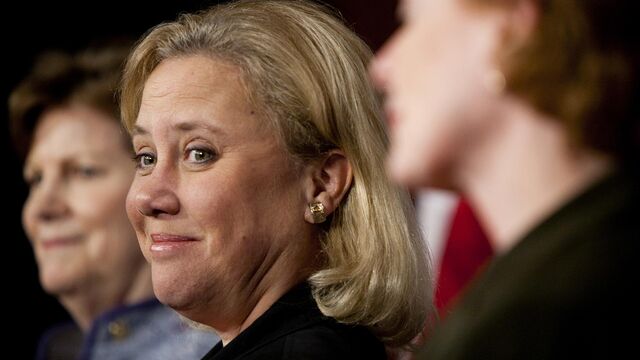 Competitive U.S. Senate races involving Republican challengers to Democratic senators have followed a familiar script.
The Democrats are running on a platform that includes raising the minimum wage, curbing a pay deficit for women, and revising but defending the Affordable Care Act, all while emphasizing their seniority and keeping President Barack Obama at arm's length. Republicans, emboldened by a favorable Senate map, are repeatedly linking Democrats to Obama, denouncing Obamacare, and increasingly raising the specter of Harry Reid continuing to run a Senate that's been a graveyard for legislation passed by the Republican-led House.
So is it also in Louisiana, where Democratic Senator Mary Landrieu and Republican Bill Cassidy debated Tuesday on the same stage for the first time, three weeks before the state's unusual all-candidate election on Nov. 4 (the national election day) and 53 days before the second-round vote that probably will be needed to determine the winner. (Landrieu and Cassidy were joined on the dais by Republican Rob Maness, a favorite of Sarah Palin and some Tea Party activists. He and some minor candidates are taking enough of the vote to prevent Landrieu or Cassidy from winning an outright majority next month.)
The Affordable Care Act gets more attention in the Louisiana Senate race than in most others, in part because Cassidy is a physician. Cassidy, a gastroenterologist, has appeared in television ads donning surgical scrubs or in a white lab coat, flipping through the massive Obamacare legislation. (In these anti-Congress times, the third-term House member is "Dr. Bill Cassidy" in his TV ads, not "Congressman Bill Cassidy.")  
Obamacare is a "wet blanket" over the economy and needs to be repealed, Cassidy said at the debate in Shreveport, reminding viewers of his background. "I opposed the — as a physician, I opposed the Affordable Care Act," Cassidy said. "I have found that when the patient has the power, the system lines up to serve the patient. However, when a bureaucrat has the power, it lines up to serve the bureaucrat. As it turns out, it is a bureaucrat telling people what they must purchase."
Landrieu, like other vulnerable Democrats, said that she would "fix" the Affordable Care Act while warning of the adverse consequences of its repeal. She seemed to defend Obamacare more strongly than is the norm for most Democrats.
The legislation is "not perfect, but we have to keep it and not, under any circumstance, repeal it," Landrieu said.
On Social Security, Landrieu said she opposes even a gradual increase in the retirement age to extend the solvency of the social-insurance program. Landrieu called attention to her state's large (32 percent) population of African-Americans, who have a lower life expectancy than whites. She needs a strong turnout from black voters in a lower-turnout midterm election. 
Cassidy pointed out that his proposed changes to Social Security wouldn't jeopardize current benefits; a higher retirement age would affect workers who are still decades from retiring, he said.
As a Democrat seeking re-election in a state Obama lost by 17 points in 2012, Landrieu needs plenty of votes from people who don't like the president. Her biggest difference is on energy policy: Landrieu, who looks after her state's oil and gas interests as the chair of the Senate energy committee, wants to build the Keystone XL pipeline as the Obama administration delays a decision.
"I do not agree with President Obama on his energy policies," Landrieu said. The U.S. "can build a strong energy future with Canada and Mexico and be energy independent."
Landrieu was more charitable to Obama when the moderator asked the Senate candidates to rate his job performance on a scale of one to 10. Obama deserved a "six to seven," Landrieu said, because he "had some really tough issues to deal with."
Cassidy gave him a zero; Obama, he said, is "going to go down as one of the worst presidents in American history."
Watch the full debate here, courtesy of C-SPAN.
Before it's here, it's on the Bloomberg Terminal.
LEARN MORE